This post may contain affiliate links. Read my disclosure policy here.
Tonya here… If you are a parent, like me, who takes photos and videos all day long of your kids, pets, places, and activities, then you will love QuickFlics. Thank you to QuickFlics creating this awesome app and for sponsoring this post. This app is currently for the US only and iOS.
Also, we have an exclusive discount code…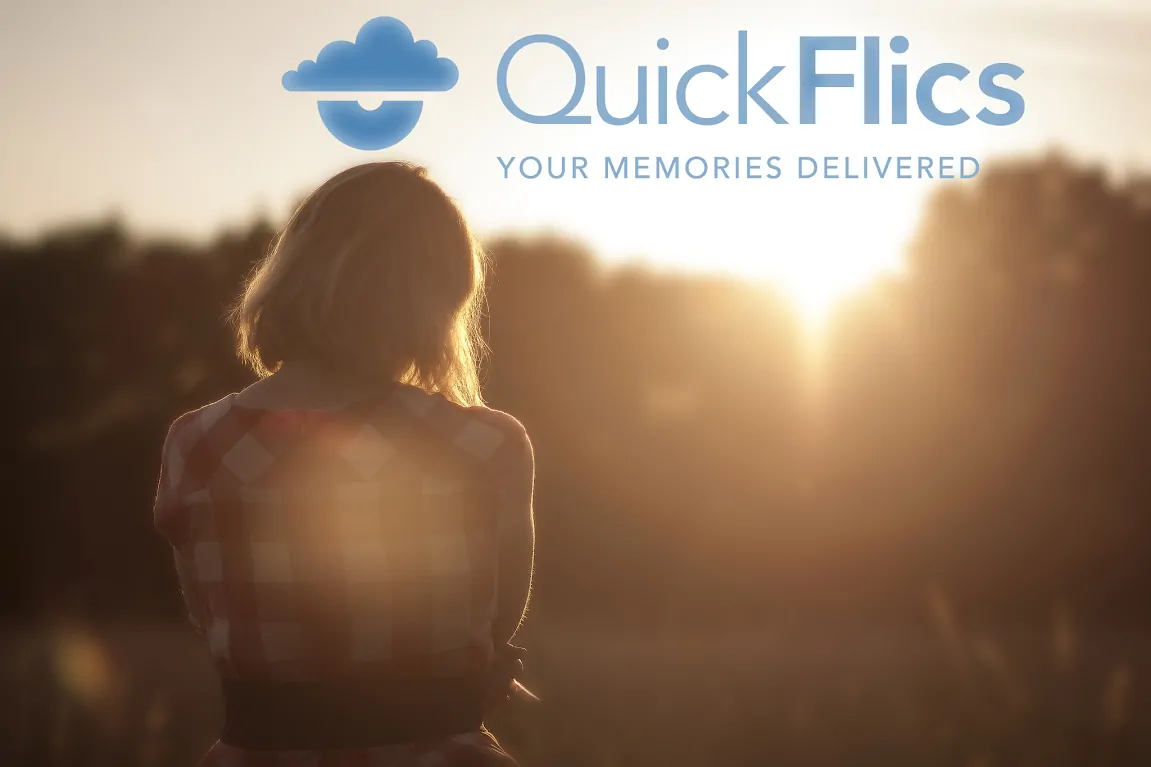 QuickFlics is the first free app that allows you to easily save your photo and video memories securely in the QuickCloud, thus freeing up space on your iPhone, and put physical copies of your treasured moments in your hand.
Because who isn't constantly running out of space on their phone?
I know I used to all the time. As I'm writing this blog post I have 2423 photos and 44 videos on my phone. I can't remember the last time I backed it up before downloading the QuickFlics app. Imagine if I lost all of that.
With QuickFlics, you can upload your videos and photos and order them on USB/DVD. So, you never lose another memory from phone again.
Also, every user gets 3GB's of cloud storage for free.

Perfect Gift Idea
Are you wondering what to get your in-laws for Christmas? I bet they'd love to see those photos and videos of their grandkids that you never get around to emailing them.
It's such an easy and personal gift idea for the holidays. Your family and friends will love sharing your special memories.
Order a USB or DVD of photographs from graduations, birthday's, vacations, or of the kids to send to family this holiday season, they will love it.
It's Easy!
The best part about QuickFlics is that it is simple to use.
It's so easy to upload your photos and video and order your USB or DVD. With a few clicks on the app, you'll have your memories safely stored and a physical copy on the way to your doorstep.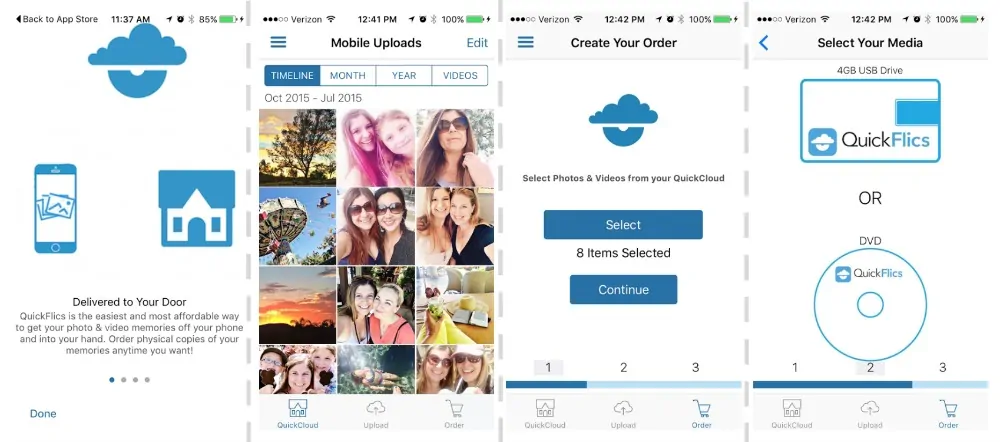 Whether you're using the QuickFlics app to upload your mobile photos and videos, retrieving memories from an old hard-drive, or importing your special moments from social networks, the QuickCloud brings all of your life's memories into one home for you to access, manage, and share.
The QuickCloud is the cloud storage used by the QuickFlics app. It provides a safe location where you can upload all your photo and video memories from various mobile phones, desktops, old hard drives, and your social accounts.
Essentially, QuickFlics is an affordable, easy-to-use cloud storage app that let's you get physical copies of your photos and videos whenever you want.
Learn more about QuickFlics and follow them here:
Website | App | Facebook | Twitter | Instagram | Pinterest
And don't forget to check out the QuickFlics blog where they have tons of fantastic ideas for making the most out of your QuickFlics and QuickCloud account along with great tips for taking photographs and video.
Discount Code
Use the coupon code "mom5" to receive $5 off your first order!
Share With Your Friends
We'd love, love, love a tweet or a pin… Thanks so much! 🙂
[Tweet "Get your memories off your phone and into your hands with @QuickFlics"]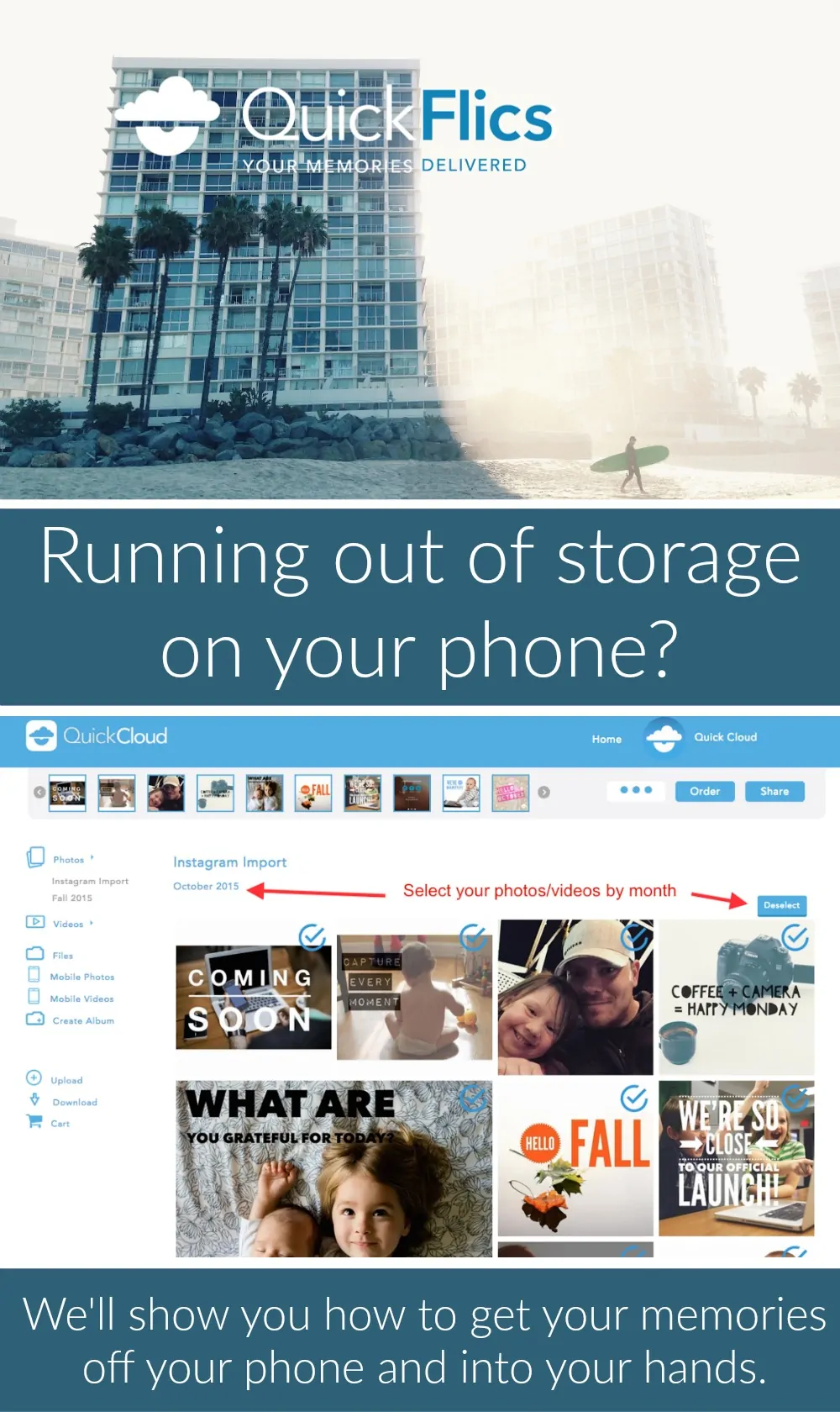 Written by Tonya Staab, lifestyle blogger at Create-Celebrate-Explore.
We received compensation from QuickFlics in order to create this blog post. Although this is a sponsored post, all opinions are my own.