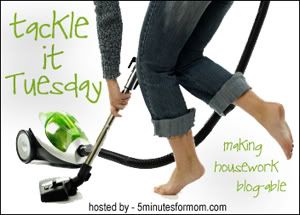 Happy Tuesday everyone! It's Erica here, taking over Tackling duties today.
My daughter's 6th birthday party is taking place this Saturday, and I can't wait!
Usually I am very last minute when it comes to party preparation. The day before, you will find me up until 4 A.M., frantically getting everything ready. But this year it's a bit different. I think it's because the party theme is soooooo much fun.
We are throwing a carnival party, complete with carnival style games, cotton candy, popcorn, a photo booth and prizes. I have been having a blast getting everything all set up for it, and I have a feeling the kids are going to love it.
You can't have a carnival without yummy treats. At our carnival party, we will be serving heaps of hot popcorn, bags of cotton candy, hot pretzels, churros and goldfish crackers for the younger crowd.
Instead of cake, I will be making ice cream cone cupcakes.
And of course there will be games. I saved up my Pepsi cans and decorated them with some fun scrapbook paper. They will be used for a tin can alley game.
I am also purchasing a goldfish for each family, as a prize for the goldfish toss game. In old-fashioned carnival style, I found some inexpensive glass bowls for the kids to throw a ping pong ball into. As for the goldfish, they are only 28 cents at Wal-Mart.
I was sure to check with each mom first, to make sure that it's okay for their kids to take a new pet home from Audrey's carnival party.
A balloon dart game will be challenging for the older kids and guessing how many Hershey's Kisses are in the jar at the kissing booth, will be a treat for the child whose guess is the closest.
There will also be a face painting booth and a tattoo booth, with temporary tattoos of course.
I bought some darling plastic popcorn containers at the dollar section of target. There will be one containter for each child and will be used to hold the prizes they win at each game.
For the photo booth, I am going to tack a large piece of polka dot fabric to a wall. Each guest can stand in front of the fabric, wear a clown nose and have a fun little memento from the party.
I am working on the signs and banners that I will use as party decor. As I googled for ideas, I came across the cutest carnival party package at DimplePrints. It includes banners, party hats, signs, patterned papers, favor boxes, cupcake wrappers, invitations, thank you cards and much more. I am so glad that I purchased it. The $10.00 price tag can't be beat!
My daughter has been watching me in the evenings as I cut, glue and make the decorations. I've got to tell you, seeing the excitement in her eyes has really made me smile.
I'll be sure to post pictures next week from her carnival birthday party, so stay tuned.
What have you been tackling?
Tell us what you're up to with all your other tackles… housework and otherwise… add your link to your tackle in the Linky below!
Each week on Tuesday, we are posting before and after pictures of a project or trouble area that we tackled this week.

Find out more about Tackle It Tuesday here.
The project can be little or big – whatever you want.

Basically, Tackle It Tuesday is about giving ourselves incentive, deadlines and satisfaction in getting our household tasks done.

(It doesn't even have to be housework… just whatever is on your To Do list.)
Written by 5 Minutes for Mom contributing editor, Erica.