This post may contain affiliate links. Read my disclosure policy here.
You have several different types of heels, plenty of sandals, and all of the newest sneakers that came out, so why are you still wearing those old, torn up boots?
Women have a tendency to buy shoes for every major occasion, but they don't buy boots quite as often.
It's really a shame, because boots are quite versatile and can be used in just about every setting. While you could easily have 20 different types of boots, we've narrowed it down to the essential 7 types of must-have boots for women.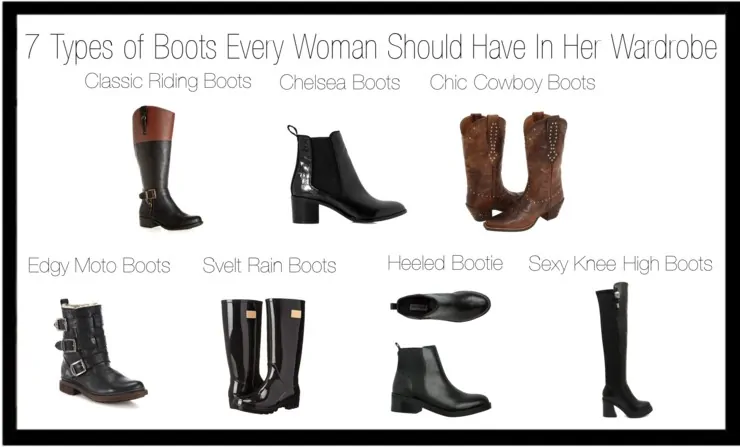 Ever-Ready Riding Boots
Riding boots are the LBD of the boot collection – they'll fit in just about everywhere, depending on how you accessorize them. They can be dressy, casual, or anywhere in between. The best pairs are leather in black or brown, but don't underestimate the power of a great zipper or metal detailing. Most of us have owned riding boots in the past, but we tend to buy boots that have to eventually be thrown away: you wear them one season, throw them away, and get a new pair the next year. Your best bet is to look for a pair that is well constructed so that they won't fall apart when you wear them nearly every day.
Put on a pair of riding boots with skinny jeans to streamline you basic weekend outfit, or add a pair to your simple dress and tights to stay warm and look professional at the office. You can even get special cuffs or bracelets to dress up your boots – so you don't have to worry about looking like every other woman!
Everyday Chelsea Boots
Just who is this Chelsea, and why are we wearing her boots? Chelsea isn't actually a person, but rather a place in London where the boots first became popular. Still, Chelsea boots have been seen on everyone from Chelsea Clinton to Chelsea Handler, and they are some of the most comfortable boots on the market today.
Typically made out of leather with contrasting sections on the ankles and sides, Chelsea boots stretch to fit your foot and ankle, ensuring a personalized and comfortable fit. Though they tend to be a little modern, Chelsea Boots are never out of place – wear them to a concert, an outdoor party, or even to work and you won't regret it. You can even get a pair for your hubby!
Style them with a slim silhouette for the best results and don't be afraid to go full on mod with your styling.
Chic Vintage Cowboy Boots
Cowboy boots are some of the most versatile boots you can have in your wardrobe. They're not nearly as niche as some people think and can work as a fantastic statement boot. Perfect with tucked-in skinny jeans and leggings or under your flared boot cuts and with your favorite dresses and skirts.
If you're a bit more daring and a regular cowboy boot isn't eye-catching enough for you, there are cowboy boots out there made with exotic leathers, (like ostrich, caiman, bison and more), flamboyant designed stitch designs and embellishments that will scratch that statement itch. The combinations of shaft styles, shaft heights, toe styles and designs are endless, and they'll last you for years. Once you settle on a pair that you love, they won't disappoint!
Dare To Be Edgy Moto/Biker Boots
Moto boots look really cool on just about everyone who dares to wear them. Leather is the old standby, but newer version of the moto boot had some fun and funky additions – from glitter and rhinestones to lace, sequins, and even paint. Moto boots can keep your feet warm in the winter, dry in the spring, and can help you stomp through muddy fields looking for the perfect pumpkin. The newest trend is for moto boots to have cut outs that show skin, giving you the ability to wear them even when it is sweltering outside.
Don't think that you have to wearing ripped jeans and a leather jacket to rock this look (though that is certainly one way that will never go out of style.) Moto boots work well with everything from cotton dresses to leggings and more. Add an element of edge with a chic pair of moto boots.
Practical-Chic Rain Boots
Rain boots are kind of like lifeboats for your other shoes. You really don't want to have to use them, but you are glad that you have them when you need them.
A classic pair of rain boots is iconic not only because it looks good, but because it is useful. Whether you are going out to plant flowers in the spring or you need to walk somewhere after a good soaking, rain boots don't only need to come out when it rains (though they come in handy there are well).
The best pairs of rain boots go up near your knee, although there are some chic versions that only go to your ankle. Check to make sure they have a thick tread and then you can wear them (with liners) in the colder months and in snow as well.
With rain boots, you obviously want something that you can fit inside so that it doesn't get wet, so stick to slimmer silhouettes that are easy to tuck. If you live in a place where you get a lot of rain, consider buying your raincoat, boots, and umbrella together so that you always look your best.
Heeled Bootie For Every Day
A low cut bootie with a chunk heel, and a little something else to make it special is the recipe for a perfect shoe for just about every season. Heeled booties have taken over many women's wardrobes because of just how versatile they are – you could have 10 version of this shoe and still find another one that does something a little differently.
They are super easy to walk in but look dressier than a flat does. Pair them with shorts to make your legs look longer, pants to elongate the line, or even a dress to still get the benefits of a heel without all of the pain.
Heeled booties typically have a lower heel, but you can get them in different thicknesses or even a wedge, depending on how comfortable you are.
Sexy Heeled Knee-High Boots
Slimming, sexy, and a little spicy, the heeled knee-high boot is an option that some women shy away from, but have no real reason to do that. They look great on everyone, and help to keep you warm in the fall and winter. Recent trends also have heeled knee-high boots with cut outs, so you will be able to continue this trend into the spring and summer.
A pair that hits an inch or so above the knee is the best bet unless you have super slender legs, as it doesn't pinch or pull.
High boots look good with just about everything from jeans to dresses, just make sure that you can actually fit the jeans under them – don't stuff! The best thing is that these shoes usually come with a platform and a sturdy heel, so you can wear them comfortably and safely.
With these 7 boots you'll be ready and looking fantastic for every occasion. Whether you're just going about your daily business (even when it rains), when you're out and want to make a statement and those special date nights with the hubby that you don't do nearly enough. These boots are fun, chic and versatile.
Share With Your Friends
We'd love, love, love a tweet or a pin… Thanks so much! 🙂
[Tweet "The 7 types of boots every woman should have in her wardrobe…"]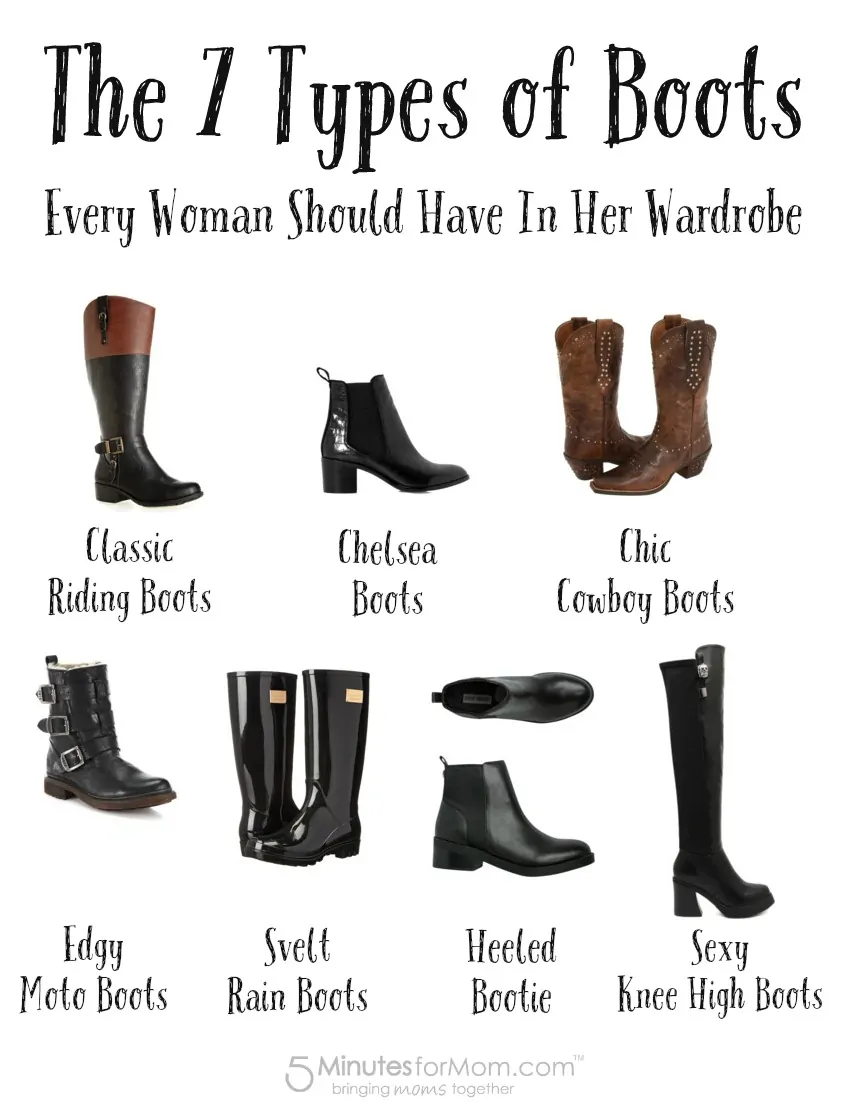 Written by Jennifer Monahan.
Jennifer is a freelance writer and a mom of 2 fantastic kids out of Jackson Hole Wyoming. When she's not working around the house and cleaning up after her husband, she likes to keep up and write about the newest fashion trends. You can follow her on twitter @Jenmonahan76.