This post may contain affiliate links. Read my disclosure policy here.
Hi There! Jen here again to share with you some more new and exciting Blaze toys that we've had the chance to play with. This post is sponsored, but my opinions are my own. 
Just when you think things couldn't get much more fun we were sent two new Blaze & The Monster Machines Toys. I can't wait for you to see these two toys. They are the most action packed Blaze toys we've had the chance to play with thus far!
First up, the Blaze Monster Dome Playset.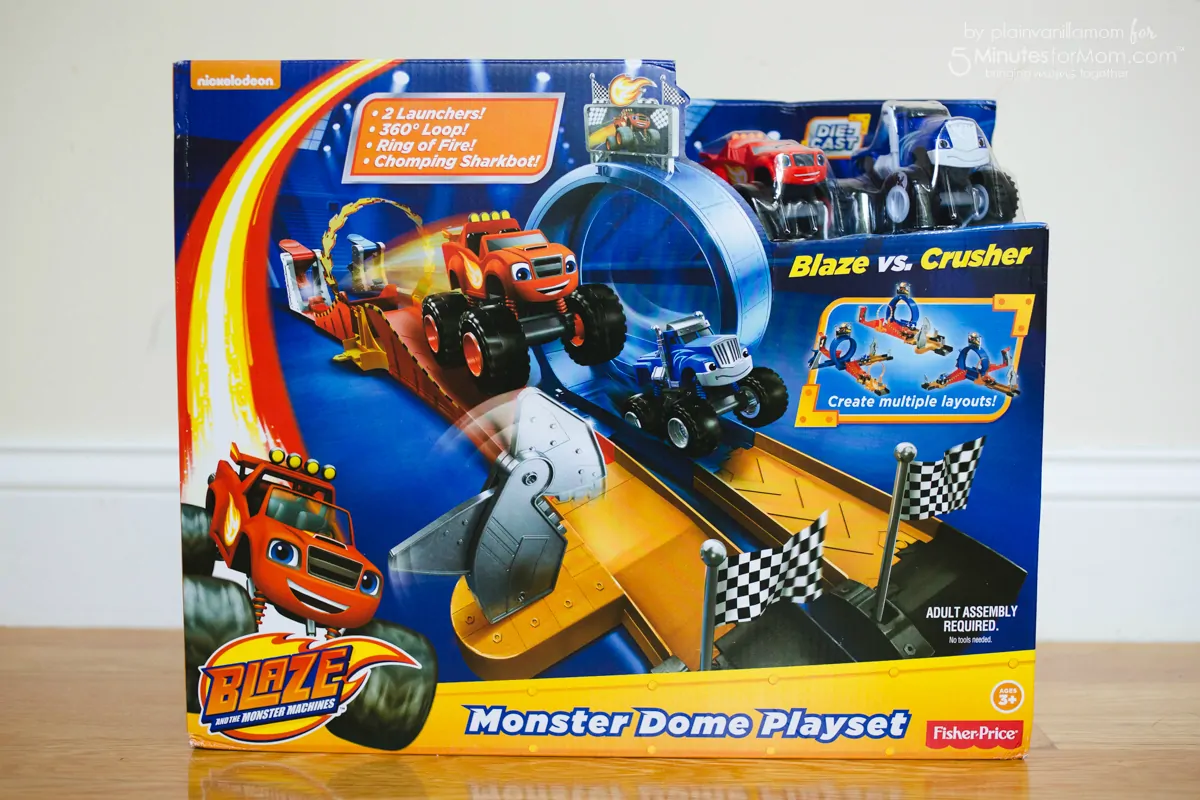 Once we put the Blaze Monster Dome together the boys are able to create side by side races between Blaze & Crusher.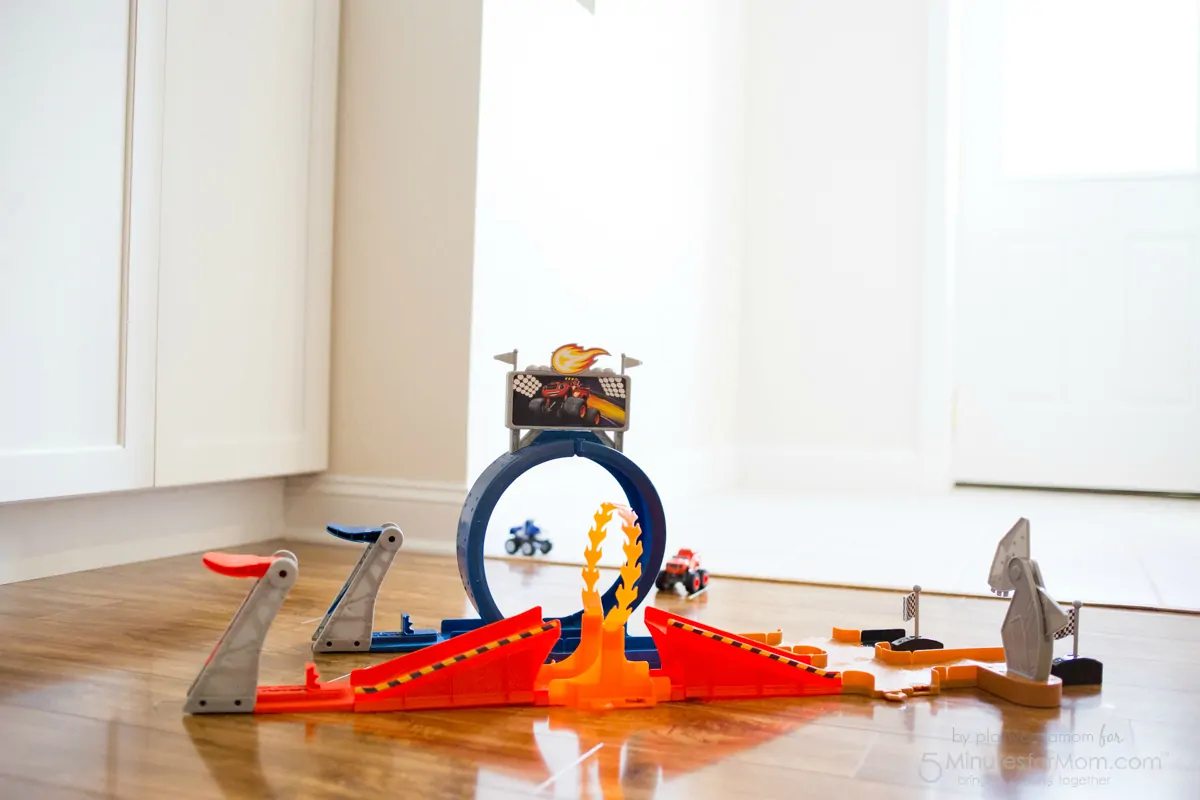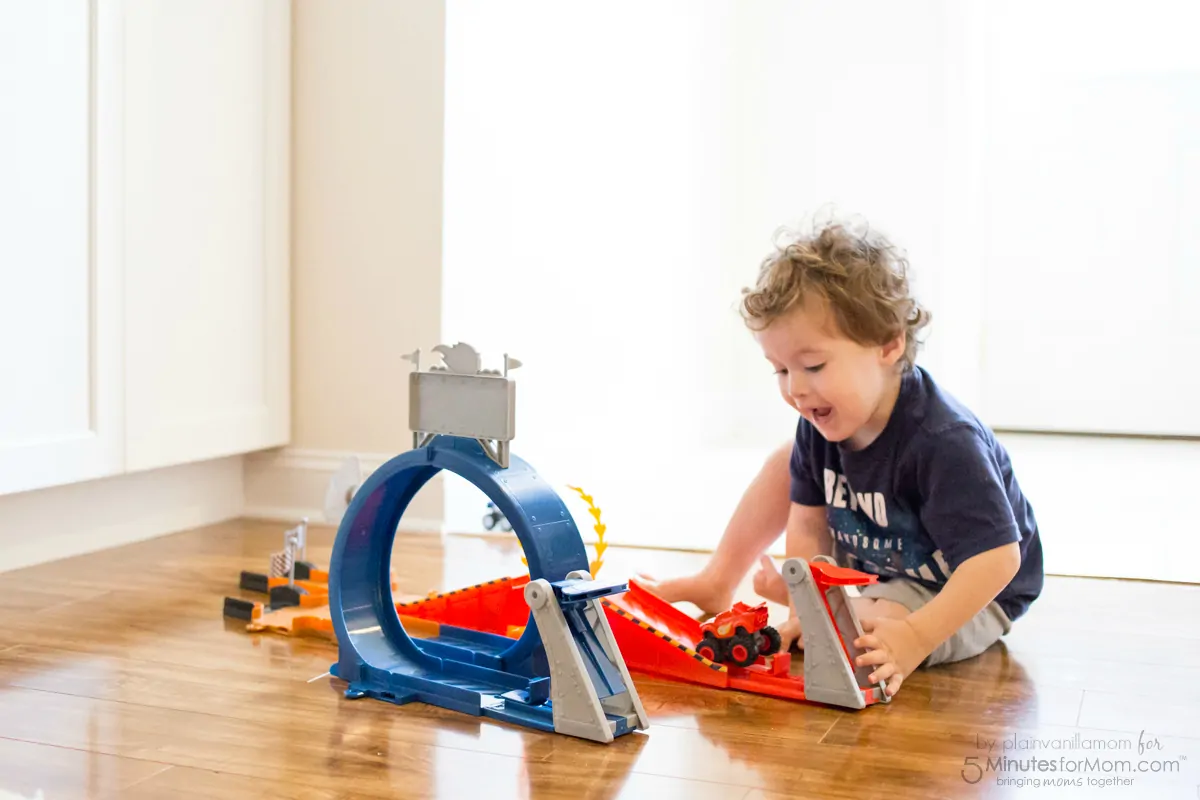 They can launch Blaze & Crusher through the 360 degree loop (which my four year old loves) or try their hand at jumping the trucks through the ring of fire (my 2.5 yr olds favorite activity).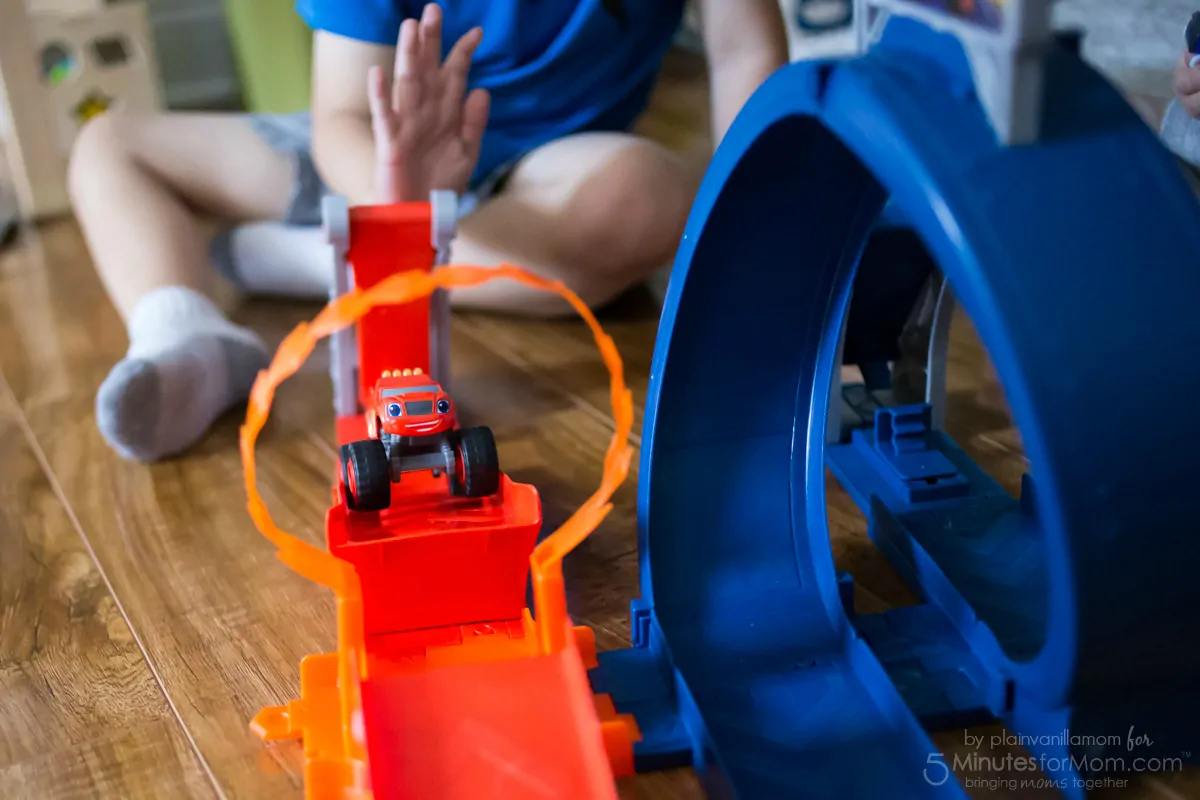 What's really cool about the Monster Dome Playset is that you aren't limited to one track configuration. You can actually reconfigure the track a number of different ways.

Just like with our other Blaze toys, I'm thrilled that while the boys think they are simply racing cars and having fun, they are actually being exposed to STEM concepts (like speed and momentum). They may not know it, but I know that's what my guys are really learning when they are trying to figure out exactly how much force to use on the launcher to get Blaze & Crusher around the track in the Blaze Monster Dome.
Then there's Super Stunts Blaze. I have never seen my four year old more excited about a toy! I mean this face says it all…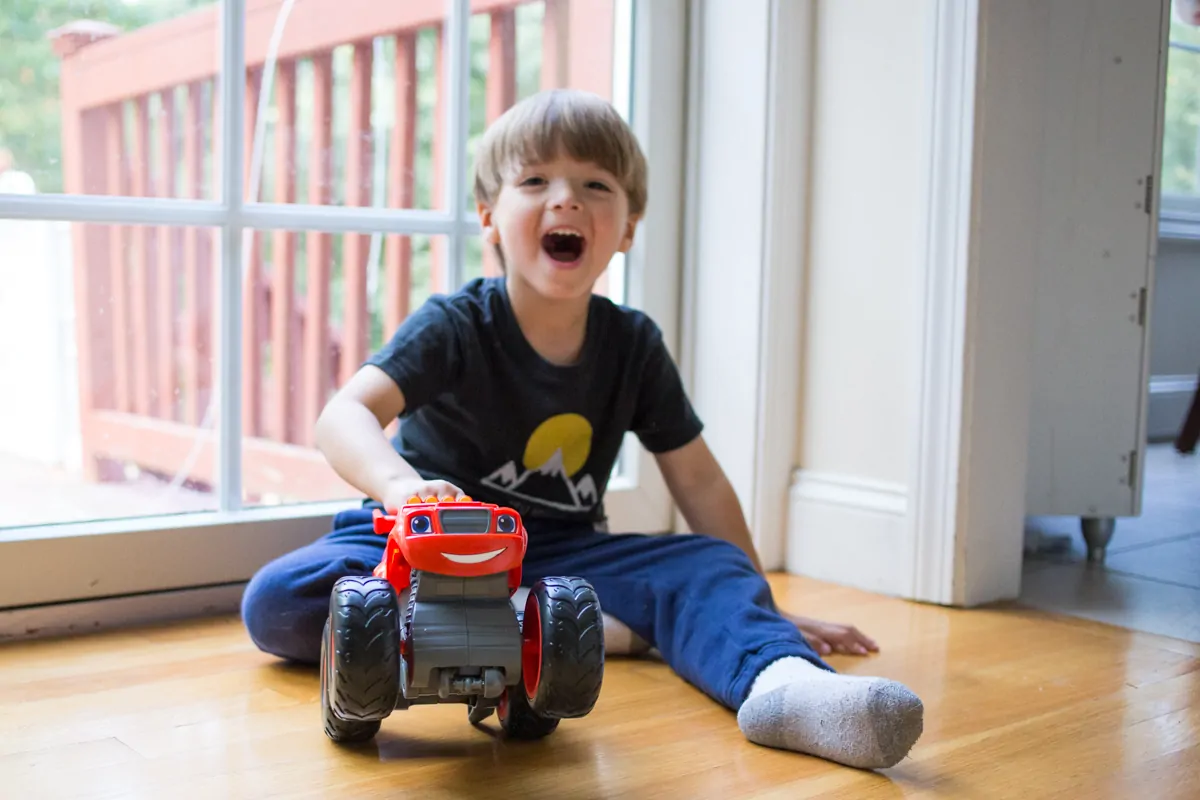 Super Stunts Blaze is unlike any truck we've ever played with. You can select the stunts you want him to perform by pressing on his lightening bolt and rev him up by pressing down on his spoiler while he counts. What's more, the boys are learning about STEM concepts like acceleration as they figure out things like more times you press down on Blaze's spoiler, the more acceleration Blaze gains. Boy do they love watching Super Stunts Blaze go!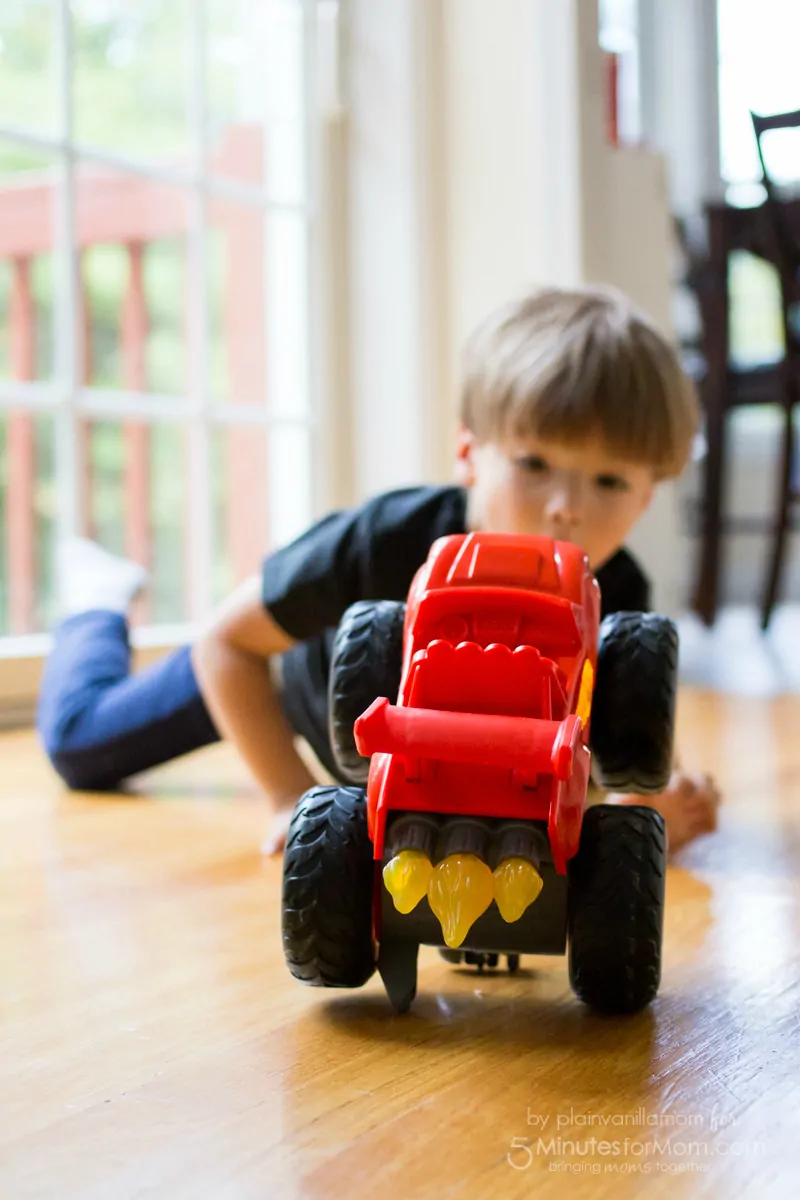 I can not describe to you the first squeals of joy and all the "oh yeahs" and first pumps as my four year old watched Blaze pop wheelies, spin 360s and then accelerate into action at full speed across our living room floor. I had to jump out of the way more than a few times myself!

No detail was missed with Super Stunts Blaze, he talks (his mouth even moves), he plays music and his tail fire lights up! He plays some pretty rockin' music at that. Every time Blaze stops we have to make him go again just to rock out to the music.  If your kiddo loves action, Super Stunts Blaze is sure to be high on their wish list this holiday season!
Speaking of wish lists. Do you have a Blaze fan in your house? These Blaze & The Monster Machine Toys along with a whole host of other Blaze toys are current available at Target and major retailers.
Hint hint… I think they would make for some spectacular holiday gifts for the little ones. Even if your little ones don't know who Blaze is yet, these are some pretty cool trucks.
Share With Your Friends
We'd love, love, love a tweet or a pin… Thanks so much! 🙂
[Tweet "Check out the super stunts and super STEM learning with Blaze and the Monster Machines Toys"]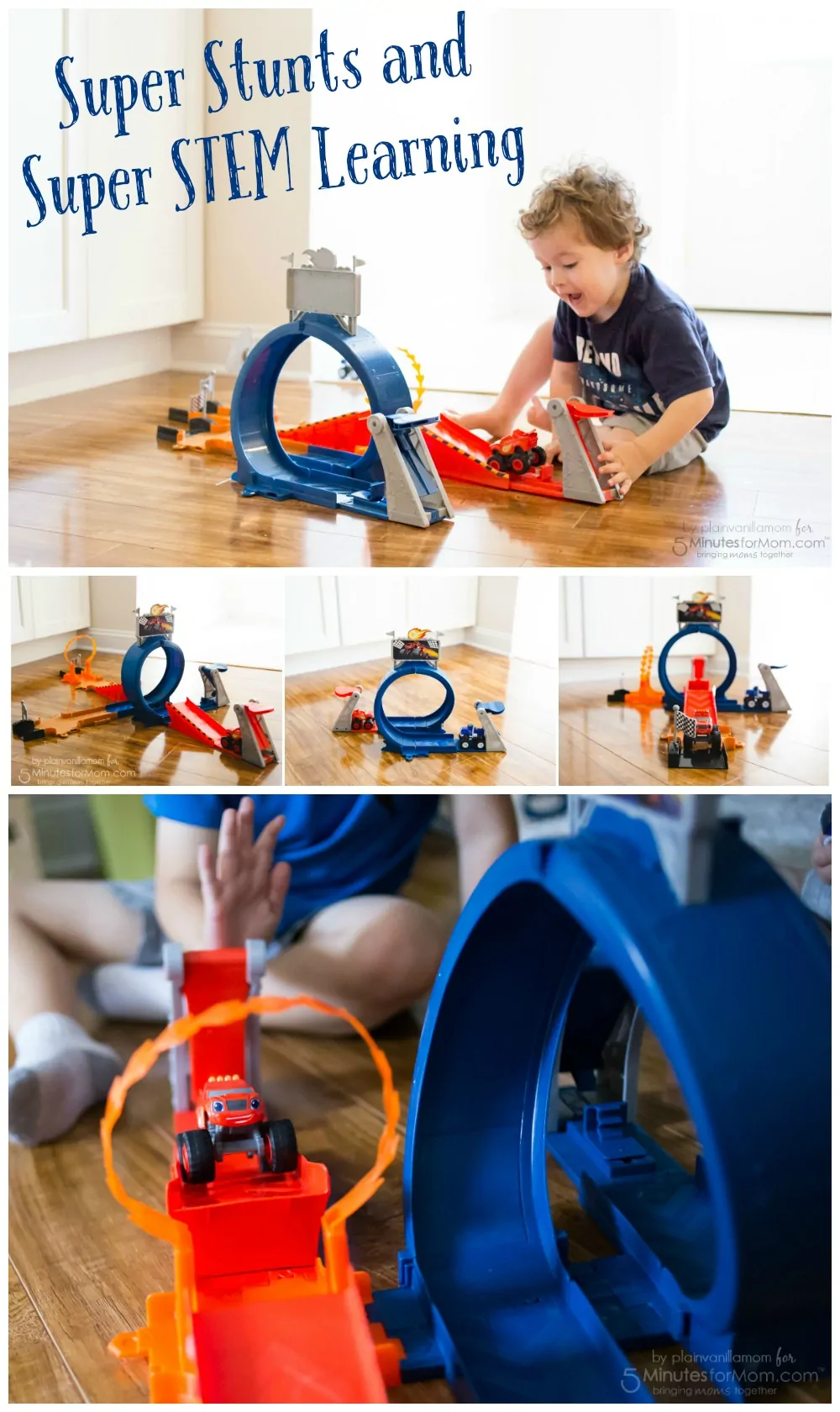 Written by 5 Minutes for Mom contributor Jen Haas, who blogs at Plain Vanilla Mom
Disclosure: Thanks to Nickelodeon for sponsoring this post and providing Jen and her boys with sample toys.