This post may contain affiliate links. Read my disclosure policy here.
Are you a perfectionist?
Do you battle with the need to do "all or nothing"?
My mother is a full-on perfectionist… in all the guts and glory. Her perfection helped her win the Gold Medal in Pharmacy at the University of British Columbia way back when there were hardly any women studying science at universities. 
But it also caused her to get so sick from stress that she made her self physically ill and never enjoyed her "college days".
Her perfectionism also influenced me so severely growing up that it led to my fear of failure that was so incredibly strong I became suicidal.
Perfectionism has it's benefits… but the risks are devastating.
I continually battle my tendency towards perfectionist thinking. And I do believe that in most ways I'm not actually a true perfectionist like my mother. But I do have to stay aware of approaching tasks with an "all or nothing" mentality.
The dangerous path of perfectionism…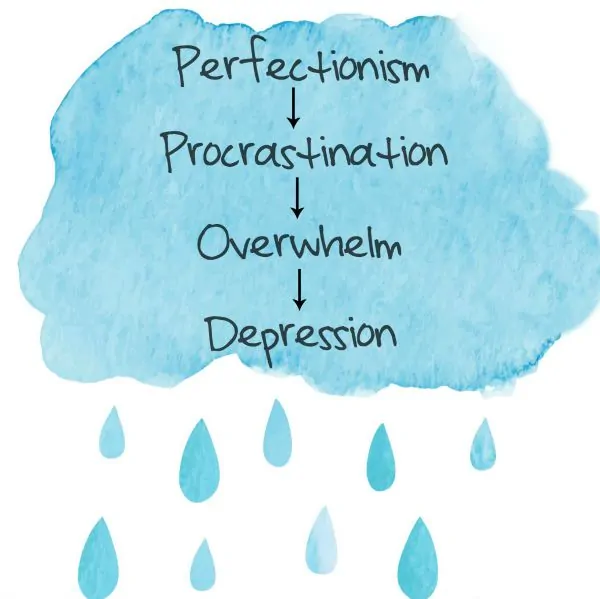 When I approach a task with a perfectionist mindset, I tend to procrastinate. 

My worry that the result needs to be perfect can cause me to put off or not even attempt the job.
If I procrastinate on too many projects, I get overwhelmed. I then start to "beat myself up" with negative thinking and blame.
Of course, I eventually end up feeling depressed.
Does this sound familiar to you?
This path can happen on small or large scales and on everything from work projects to housekeeping. 
One way to combat the perfectionism is to plan to just conquer 80% of the job. Or simply tell yourself, you're just going to work on it for 5 minutes.
Chances are high that once you start working on the project, inertia will take over and you'll keep going.
I think what is most important is recognizing the cycle.
Once you notice that you're on this path, you can take steps to stop it. Often that means asking for help.
If you've already reached the point of depression, please take action. It might help to put on some motivational music and go for an energetic walk.
Talk to other people who have been through the same challenge. 
But if you're having suicidal thoughts, please get medical help. 
Remind yourself that perfection is not the goal. True success comes from hard work that is in balance with your other goals. Perfection does not equal happiness.
Share With Your Friends
We'd love, love, love a tweet or a pin… Thanks so much! 🙂
[Tweet "Can you relate? –> Perfection can lead you down a dangerous path…"]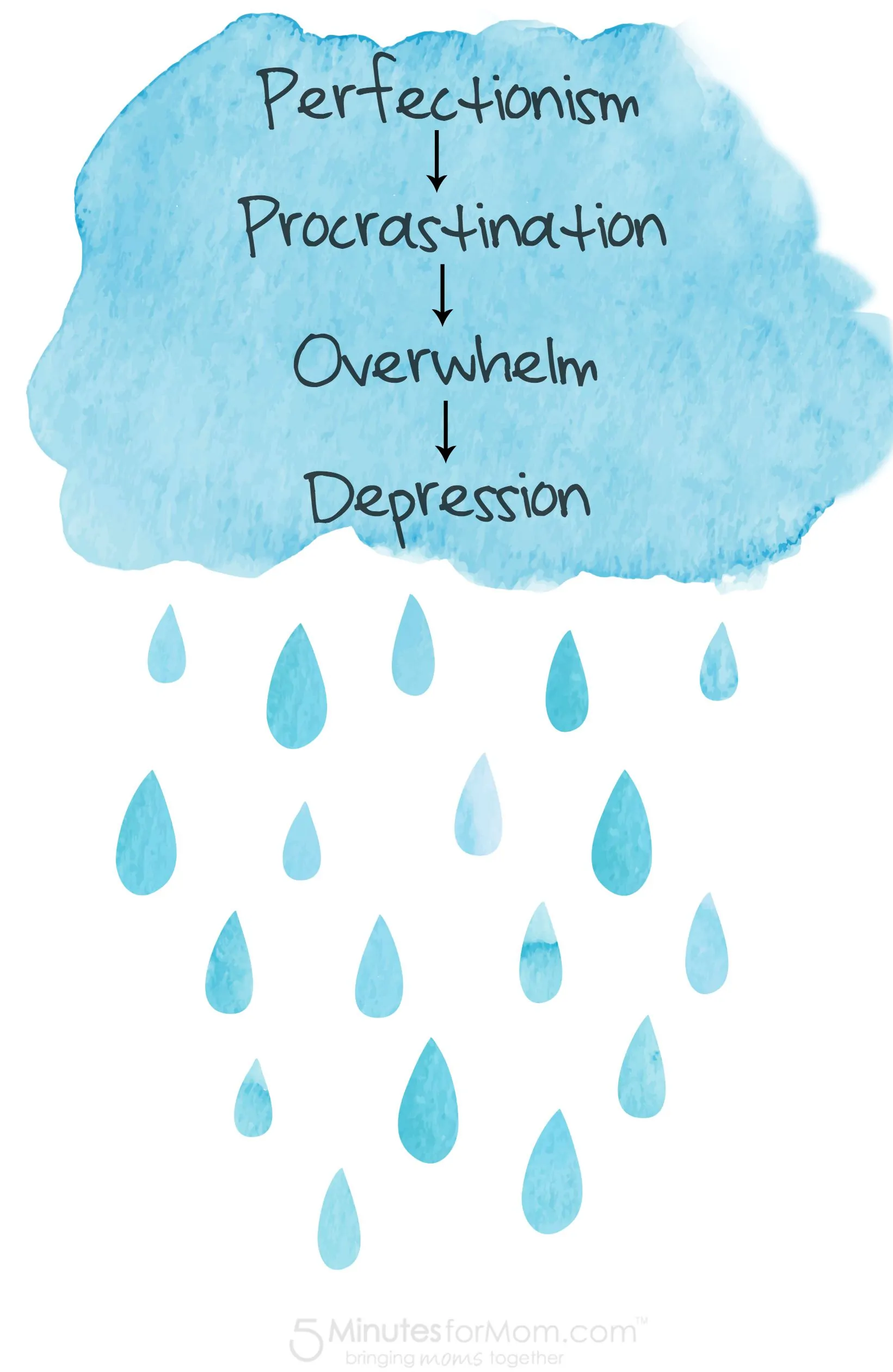 Written by Susan Carraretto, co-founder of 5 Minutes for Mom
Talk with me: @5minutesformom and Facebook.com/5minutesformom
Pin with me at pinterest.com/5minutesformom