This post may contain affiliate links. Read my disclosure policy here.
Susan here to follow up with some fabulous reader responses to my recent post asking, "How would you rather be weighed?" This post is part of sponsored campaign which helps support our site and in turn helps our team support our families. Thank you for reading and sharing.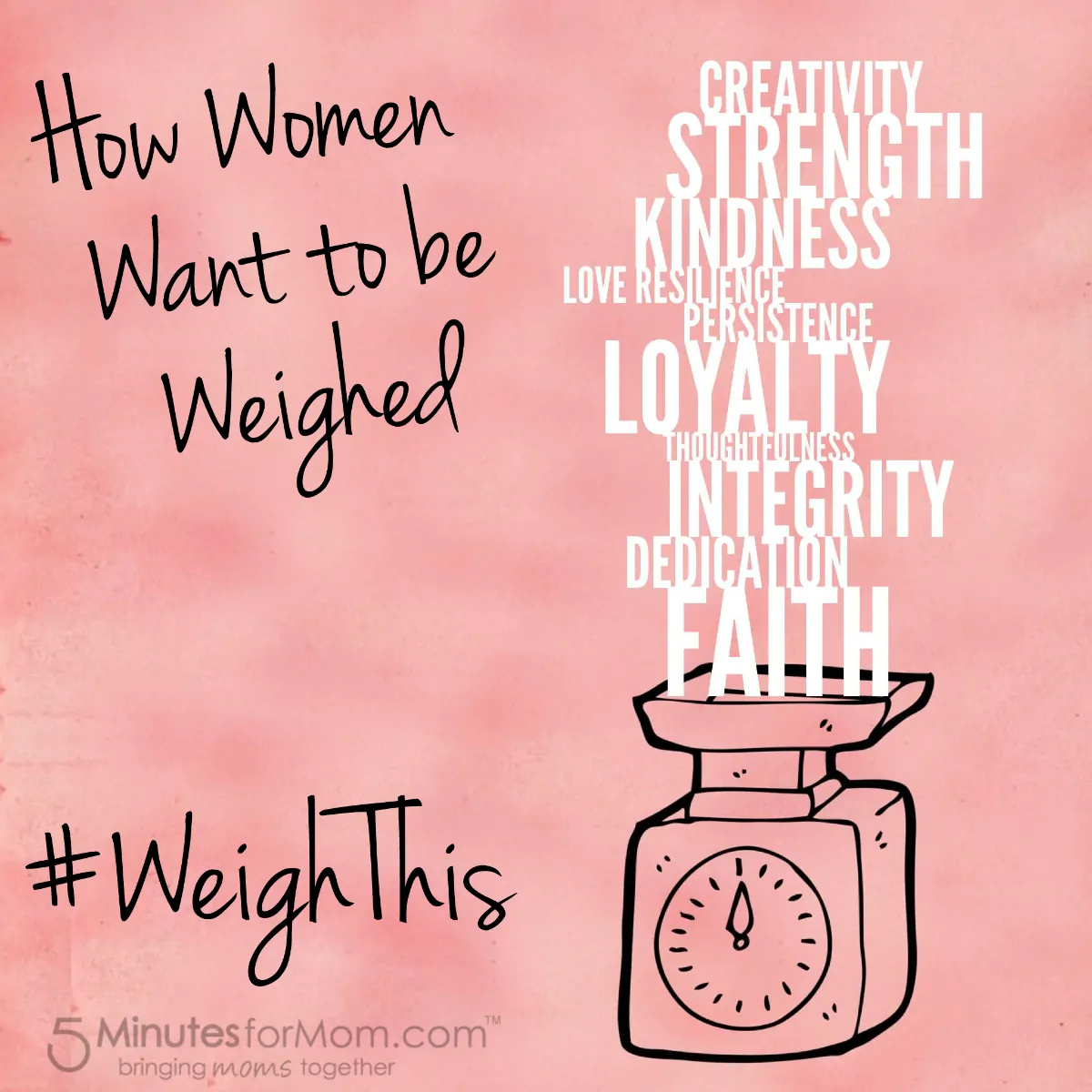 Mass media is desperate to comment on the weight of women. Whether it is the latest celebrity who has dropped under 100 lbs or the latest news story about obesity showing the backside of a woman in WalMart, we are constantly told that the value of a woman is measured by her weight on a scale.
But it's a lie.
And we all know it.
We are worth more than our physical appearances and our weight. So I'm joining Lean Cuisine for their #WeighThis campaign asking women how they'd rather be weighed.
Last week I shared how I'd like to be weighed and asked our readers what matters most to them.
Here are 23 of the fabulous answers revealing how women want to be weighed…

Becca from Amuse Your Bouche:

I'd like to be weighed by my dedication and hard work! I didn't give up until I was able to quit a job I hated and blog full time – and I couldn't be happier.

Laurie from Successful Homemakers:

I want to be remembered as a Mama that gave all to her family, not as a woman fighting with the scale.

Erinn from Parenting Healthy:

I want to be weighed as a Survivor.

I am a Mom, Stepmom, Wife, Sister, Daughter, Aunt, Friend, PTA President, High School employee and Writer. I have lived through and escaped a dangerous, abusive man I was with for 6 years. I wrote about the effects of that. I once lived everyday afraid it would be my last at the hands of my abuser.

I am now married to the perfect husband, have 3 beautiful boys who have been raised to respect others (an women), work because I want to and not because I have to. I survived 6 years of torture and if my story helps even 1 other victim and brings hope then that is the legacy I want to leave.
Terri from Housewives of Frederick County:

I'm most proud of my children.

I have two boys, both teens now, who are growing up and demonstrating that I've done some things right! They're making good choices and are GOOD young men!

The other thing that really matters to me, as an Occupational Therapist, is my ability to help others and truly make a difference in their lives. I LOVE that I get to do that!
Bonnie from The Koala Mom:

I'd much rather be weighed by how I helped my friends, encouraged other moms, or what I put into my kids.

What really matters to me is the people around me, not what size they are.

C. Lee from Helicopter Mom and Just Plane Dad:

I want to be weighed by the smiles my daughter gives me when I get something "just right"!



Lizzie from Listing to Port:

I'm proud to be known as someone who has taken huge risks and leaps of faith, is a great listener, is an optimist.

I would absolutely always prefer that my friends say that I'm a terrific parent, that I'm genuine, trustworthy, supportive, and FUNNY, than say anything (positive or negative) about my physical appearance as if it is a measure of my quality as a person.
Judy from Coffee Jitters:

I'd like to be weighed by my resilience, persistence, and ability to make something beautiful out of a terrible situation.

My husband and I were full-time college students and we had an infant when I was diagnosed with stage 3 breast cancer. Since then, I've completed chemotherapy, radiation, 5 surgeries, so many hospital overnights that I lost count, and a bachelors degree.

I saw my baby graduate from kindergarten, launched a freelance writing career, and every day I work to help other women thrive while living with cancer through my writing projects and volunteer work with organizations like the Young Survival Coalition.
Melissa from outnumbered 3-1:

I haven't jumped on a scale in years. I will not be defined by a number on the scale. Could I stand to lose some pounds? Sure.

But I would rather be known for my hard work, giving nature and loyal heart.

THAT is who I am; me weight is not.
Crystal from Tidbits of Experience:

I am still ME on the inside. I'm still smart, easy going, and a proven leader.

I'm a dedicated worker who strives to produce quality work in all that I do. Like yourself, I also have built a blog from the ground up.

I even obtained my college degree online while raising kids and working outside the home.

I want to be weighed on the things that I have accomplished regardless as to what my weight is according to a scale.
Monica from Mommy and Love:

When I was pregnant, I had major self esteem issues bc my SIL was pregnant at the same time and gained half the amount of weight that I did. People were comparing us and making comments about how huge I was getting. I HATED IT.

And truthfully, I didn't mind the weight gain because to me, it meant a healthy baby. However, the negative comments made me feel poorly about my self image. I felt like I wasn't supposed to be gaining as much weight as I did…

I wish people would have measured my worth based on how much love I was holding for my unborn child. I was researching parenting styles, breastfeeding, babywearing, homemade baby food recipes, nursery decor and all sorts of things as I longingly awaited to hold my baby.

If only people would have stopped judging me based on my weight gain and looked at my motherhood potential instead!
Paula from Thrifty Mommas Tips:

I hope to be weighed as someone who helped others and used her voice for good.

That's all that matters to me and of course how my kids, family and friends view me. I hope to be weighed for my love for my kids, my commitment to other adoptive families and my love for kids with special needs.
Lindsay at Kindred Spirit Mommy:

I'm thinking about how I want my daughter to weigh her worth.

I want her to weigh her worth by her integrity, by the time and love she gives her family, by the way she chases her dreams, and by the way her Heavenly Father values her.

I want her to see that we aren't to be judged worthy by the ways that media tells us we should – true beauty is a strong woman who genuinely cares about those around her and isn't too proud to be kind to anyone.
Susan from Of Every Moment:

Being healthy is important, but nobody is a number on a scale!

I have always told my children they are my biggest accomplishment – and I would be honored to be weighed for the amount of influence I have had upon their character, their successes, and their kind and giving spirits!

What matters most to me in life is to try to be kind and tolerant, attempt to do my best, find ways to make life a little better for others, and (as my blog name reflects), to make the most of every moment.
Carissa from Grown Ups Mag:

I like to hope that I'll be remembered when I'm gone by family, friends, and those I've helped through volunteering.

But in the meantime, I think the impact I want to have and what I'd be most proud of is what my kids think of me as their mom and that we've connected and made memories in our years together.
Rachel from Mother Teacher Artist Woman:

I want to be weighted by the number of people I have made feel better about their lives. I want to be weighted by the number of people who have felt validation from spending time with me or reading something I have written.

I want to be weighed by the number of people I have helped see the world as more beautiful than they saw it as before. I want to be weighted by my impact on people.
Petula from Petula Writes:

I'd like to be judged on parenting of my young children ages 11, 10 and 8 as well as my adult child who's 24 now, and the joy of being a grandparent to a 2-year-old like sweetie pie.

I'd also be judged by my writing career… about 20 years or so now.
Emily from Louisiana Bride Blog

I'd like to be weighed by how I am as a mother and wife.

Also, I want to be known as a caring person who would help anyone and who loves people.

There's so much more joy in life when serving others.

Natasha from Anxious Toddlers:

I would like to be weighed by the people I have helped and uplifted.

By the smiles I have put on small sad faces. By the skills and life lessons I have taught to those around me.

Sharon from Faith Hope Cherry Tea:

I would rather be weighed on my kindness.

My thoughtfulness. Presence. Availability. Willingness to help. Advocacy, Care. Consideration. Concern. Love of laughter. Creativity. Sharing my gifts with others. Time…

Quida from Simple Savings For ATL Moms:

I would like to be weighed by the many techniques I show other moms to save money for their families.

By showing moms how they can save may just help them teach their children to develop these great techniques as they get older.
April from April J Harris:

I totally agree! We cannot weigh our worth on a scale.

I'd like to be weighed by my love for my family – they are absolutely the most important thing in my life!

My immediate family is small – there are just three of us – but they are everything to me. We also have a huge extended family that also mean the world to me.
Desiree from Finding We Project:

I'd rather be weighed by smiles, laughs, hugs and kisses.





If you missed the first post, you can find it here.
Spread the Word
We'd love, love, love a tweet or a pin… Thanks so much! 🙂
[Tweet "How Women Want To Be Weighed (Hint… it does not include a scale) #WeighThis"]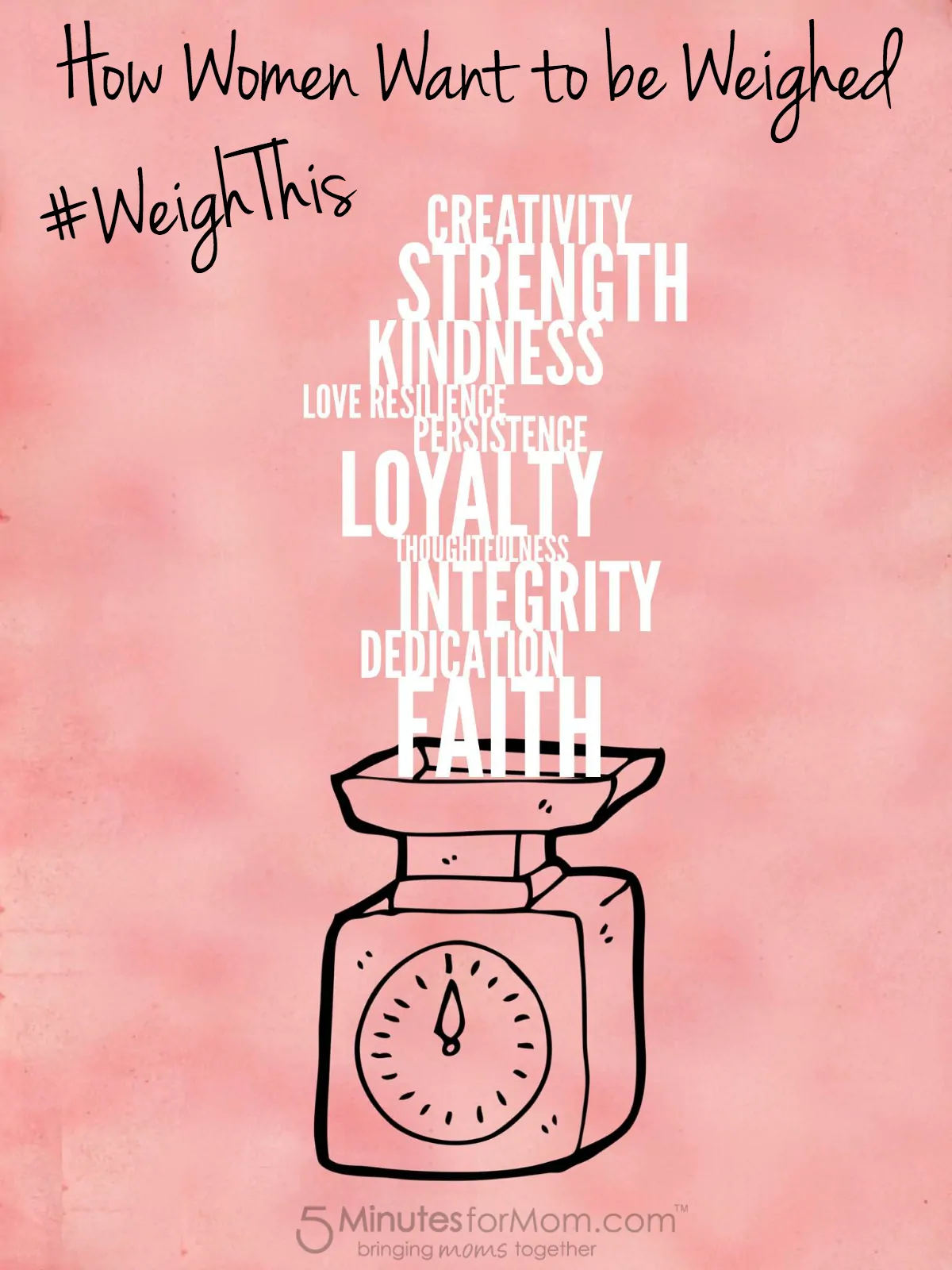 If you're going to weigh something, weigh what matters. How do you want to be weighed? #WeighThis https://t.co/bj8RIiNEZr

— Lean Cuisine (@LeanCuisine) June 22, 2015
Written by Susan Carraretto, co-founder of 5 Minutes for Mom
Talk with me: @5minutesformom and Facebook.com/5minutesformom
Pin with me at pinterest.com/5minutesformom