This post may contain affiliate links. Read my disclosure policy here.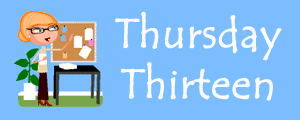 Banner by Chaotic Home
13 Bands/Singers I Was Listening To In The 80's
Aha
Howard Jones
Thompson Twins
Tears for Fears
Simple Minds
OMD
Pet Shop Boys
Men At Work
John Cougar Melloncamp
Midnight Oil
Sting
REM
U2
Get the Thursday Thirteen code here!
The purpose of the meme is to get to know everyone who participates a little bit better every Thursday. Visiting fellow Thirteeners is encouraged! If you participate, leave the link to your Thirteen in others comments. It's easy, and fun! Be sure to update your Thirteen with links that are left for you, as well! I will link to everyone who participates and leaves a link to their 13 things. Trackbacks, pings, comment links accepted!
View More Thursday Thirteen Participants