This post may contain affiliate links. Read my disclosure policy here.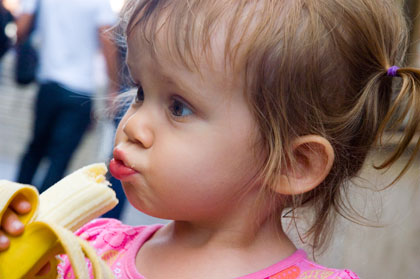 Dinner time with my girls is often my most dreaded time of day. My girls are what you might call "not-good eaters"… but each in entirely different ways.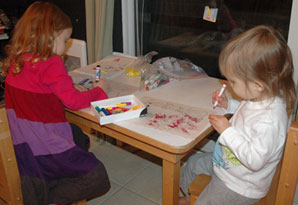 So as dinner time approaches, I can feel my inner stress building.
I just so desperately want them to eat a healthy dinner and not melt down and remind the neighbors how loud they can yell.
(I feed the girls dinner at about 5:30 pm, long before their Daddy has come home from work. Daddy comes home at about 7:00 pm just in time for stories and bedtime.)
Most of my Mommy Confessions revolve around tricks I play to get my girls to eat. And on most nights, with Julia, my trickery works like a charm. But… not so with Sophia.
You see, Julia came out of the womb not interested in eating. It took 5 days and as many lactation consultants to encourage her to nurse. When other babies were moving on to solids, she showed no interest. When purees were in the past for her friends, she still balked at the concept of chewing.
But at the recommendation of her pediatrician, I decided my biggest goal was to not turn eating into a power struggle between me and my little girl. So I just worked around her lack of interest in food.
I discovered with Julia that it wasn't the particular food that she was opposed to… she didn't generally like one food and not like another, she just wasn't interested in food at all. Any of it. So to get her to eat, I would distract her with a book or a game and subtly keep slipping spoonfuls of food into her mouth.
And here's a confession for you. I still do the same thing!
Yes, I will quite often feed my 4 year old her dinner by spooning it into her as I distract her with some type of game. One of my tricks is a little game we made up where I say something like, "Okay, show me hopping." And then she will do something different like skipping. While she skips across the room and back, I call out it in fun voice, "That's not hopping, that's skipping!"
She laughs and comes takes a bite of food and we repeat with a different request.
On occasion, Sophia who LOVES to imitate Julia will play along as well and take bites of food. But… most of the time, feeding Sophia is entirely different.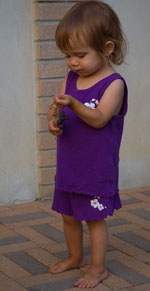 Sophia is more typical of a child and is INDEPENDENT. She does not like to be fed, she wants to feed herself. While that may seem like an easier (and clearly healthier) behavior, it means I cannot sneak into her whatever healthy food I want.
And like many toddlers, Sophia is picky. She doesn't want her peas touching her pasta. In fact, she doesn't want her peas at all. (She will throw a 30 minute tantrum if I put peas near her pasta.)
Most days, my tricks don't work on Sophia.
So Ladies, I need your help… what are your suggestions and recipe ideas for feeding a picky two year old?
I do have Jessica Seinfeld's cookbook and we regularly use a few recipes. We sneak extra veggie purees in their macaroni and other meals.
I rejoice on days when I get the girls to eat our family dinner, but some extra foods that I rely on to fill in the gaps are:
Avocado — Sophia loves avocado and most evenings before bed I make up for her lack of dinner by feeding her bites of avocado at bath-time or story-time.
Bananas — Who could parent without bananas?
Fresh Apples and Pears — A staple around here.
Bottled/Canned Peach Slices — Sophia LOVES these.
Wraps with Cream Cheese — I try to sneak in chicken and avocado… Julia usually eats the full wrap, but Sophia usually wants only cream cheese in hers.
Kashi Cereals — My girls love the Go Lean original cereal and the Shredded Wheat in cinnamon flavor.
Heinz Toddler Cereal Bars — Sophia is addicted to these bars and starts every morning with one. She calls them her "num-nums".
Plain Organic Yogurt — I try to keep my girls used to the flavor of plain yogurt.
Cottage Cheese — My girls will often eat cottage cheese.
Tomatoes — Both Sophia and Julia like to eat fresh cherry tomatoes or other sweet tasting tomatoes.
Grapes — I stress like crazy about choking and try to slice them for Sophia, but my girls love to eat grapes. In Italy, I tried to not panic as Sophia regularly walked up to the grapes vines picked herself some grapes, walked over to the fountain, washed them herself and ate them whole — seeds and all!
But I'm wondering what other ideas you have to help get picky-eaters eating?
~Susan
ps. You can watch one of my live action Mommy Confessions about dinner-time here.
pps. You're getting our feed, right?
ppps. Let's tweet — catch me @5minutesformom and @susancarraretto.