This post may contain affiliate links. Read my disclosure policy here.
Oh yes I did!!!
I know – I can't believe it myself. I had fully intended on only tackling that crazy, huge Mr. Linky this week, but girls – I had no choice. My kitchen table/office was out of control! I mean –it was really bad. Look…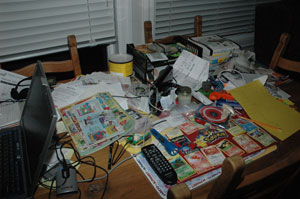 AND Jackson had a play date coming over! On Sunday night, I found out the mom was coming too. Oh my! I have never had this woman to my house before. I barely knew her. What would she think of me if she saw my table?!? She would assume I never fed my family and call social services!
Now I was smart enough to have scheduled the play date the day after my cleaning lady was here. My hubby had been a dream Sunday morning and had helped me get the house picked up enough for the cleaning lady to find the surfaces to scrub, so my house looked relatively decent.
But the table – oh the table! I just couldn't bear to let her see it.

So, at 9pm last night, when I really should have been partying with you all, I tackled it! Two hours later here it is. (I even touched up the little bookshelf I have next to my table.) I felt terribly guilty about getting even further behind on the ever-growing linky list – but oh does it feel GOOD to get that table back under control. It was stressing me out so badly!!!

So did you tackle any extra tasks this week? If you are tackling the party Mr. Linky – that is GREAT!!! It is huge list with all those wonderful blogs just waiting for us to find them.
I know it may take me well into next week (or longer) to get to everyone. I encourage you to keep visiting the parties next week too. I will be keeping the party post at the top of my site so that you will still be able to easily get to the Mr. Linky. It is a wonderful resource of blogs – I don't want to waste such a great opportunity to get out and expand my blogging horizons! 🙂
Now – I better get back to tackling that Linky list – I have got some serious partying to do!
Thanks to all of you have made this party such a hit! You girls are awesome!
PS – On Sunday, I was so craving some chips and smoothies from all of your wonderful spreads, that I had to go out and buy some! (The smoothie shop was right there next to the store – and somehow those smoothies just taste sooooo good, so Jackson and I indulged!) I did feel extra sick though after eating the chips – but oh well! 🙂
Join Us For Tackle It Tuesday
We're making housework blog-able!
Each week on Tuesday, we are posting before and after pictures of a project or trouble area that we tackled this week.
Find out more about Tackle It Tuesday here.
The project can be little or big – whatever you want. Basically, Tackle It Tuesday is about giving ourselves incentive, deadlines and satisfaction in getting our household tasks done.