This post may contain affiliate links. Read my disclosure policy here.
If you didn't win the prize pack during our "Twitter Pool Party" sponsored by Macmillan Kids and the new book The Whale in My Swimming Pool, you have another chance to win. Prizes are open to US and Canada.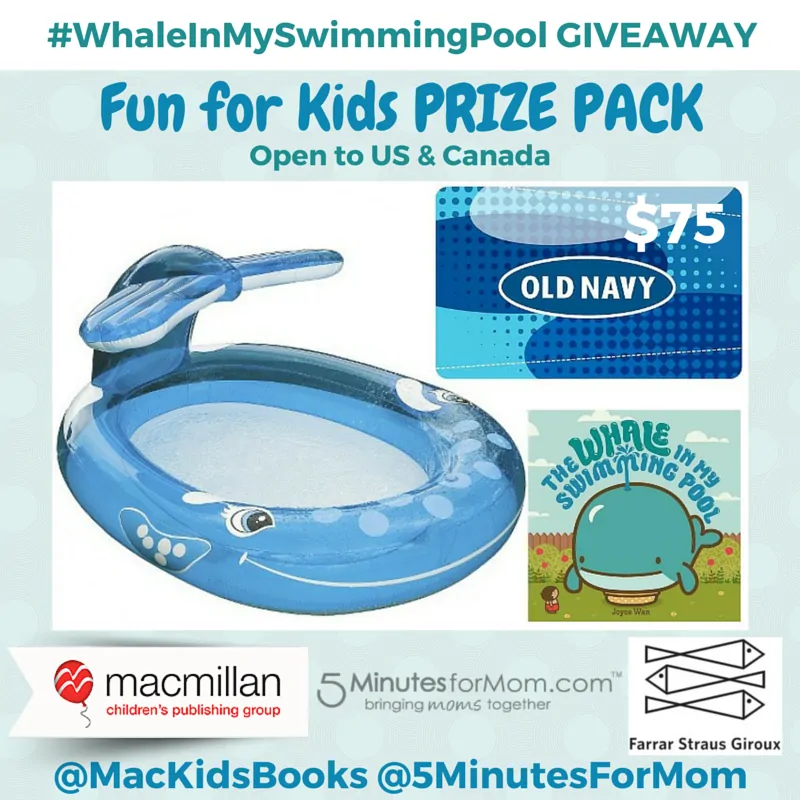 "The Whale In My Swimming Pool"
Have you seen this adorable new book, The Whale in My Swimming Pool, written & illustrated by Joyce Wan? It was just released on April 7th.

#WhaleInMySwimmingPool Twitter Party
To celebrate the launch of this fun new book, we hosted a Twitter "Pool" Party about Outdoor Fun for Kids sponsored by Macmillan Kids @MacKidsBooks on April 15 at 8pm ET.
We had a great chat sharing ideas for ways to keep our kids active, playing, learning and of course reading throughout the summer.
Community Panelists to follow:
@tidbitsofexperi
@kidsdirectory
@courtneycal
@mdefined
Some Tweets from the Party
Welcome to #WhaleInMySwimmingPool Twitter Party w @MacKidsBooks. Let's talk Outdoor Fun For Kids! RSVP http://t.co/HwziWfz3em

— 5minutesformom (@5minutesformom) April 16, 2015
THE WHALE IN MY SWIMMING POOL by @wanart is an adorable book all about having fun in the sun! http://t.co/sGhWMy0orI #WhaleInMySwimmingPool

— Macmillan Kids (@MacKidsBooks) April 16, 2015
Please follow @MacKidsBooks & panelists @tidbitsofexperi @kidsdirectory @courtneycal @mdefined #WhaleInMySwimmingPool pic.twitter.com/toP6UQmsoF

— 5minutesformom (@5minutesformom) April 16, 2015
Do you find it easier or harder to get your kids to read during the summer vs. the school year? Do you have any tips? #WhaleInMySwimmingPool

— Macmillan Kids (@MacKidsBooks) April 16, 2015
TIP: On rainy days build an indoor blanket fort and have a reading marathon! #WhaleInMySwimmingPool #kidlit

— Macmillan Kids (@MacKidsBooks) April 16, 2015
TIP: #WhaleInMySwimmingPool shows kids how to be inventive even if something ruins their fun time, like a small yard or no pool!

— Macmillan Kids (@MacKidsBooks) April 16, 2015
TIP: If your kids need a little inspiration ask them to draw a scene from their favorite picture book! #WhaleInMySwimmingPool

— Macmillan Kids (@MacKidsBooks) April 16, 2015
TIP: Make rainbows with the water hose and talk about the science of light. #WhaleInMySwimmingPool #Education

— 5minutesformom (@5minutesformom) April 16, 2015
And this video shows toddler Olivia climbing into a FREEZING cold pool. Nothing stopped her. https://t.co/3KOFfvRq8b #WhaleInMySwimmingPool

— 5minutesformom (@5minutesformom) April 16, 2015
TIP: We have an entire #Pinterest board all about Summer Fun – http://t.co/J1G5b6qNcD #WhaleInMySwimmingPool

— 5minutesformom (@5minutesformom) April 16, 2015
TIP: Get your kids to help wash outdoor toys & furniture with the hose. #WhaleInMySwimmingPool http://t.co/394zAKiQcd pic.twitter.com/FSLYwp8LcV

— 5minutesformom (@5minutesformom) April 16, 2015
What would your kids say if you asked, "What would you do if you found a whale in your swimming pool?" #WhaleInMySwimmingPool #kidlit

— Macmillan Kids (@MacKidsBooks) April 16, 2015
Giveaway Entry Form
Use the entry from below for an extra chance to win a Prize Pack of approximate value $95 that includes:
$75 Old Navy gift card to buy summer clothes and swimsuits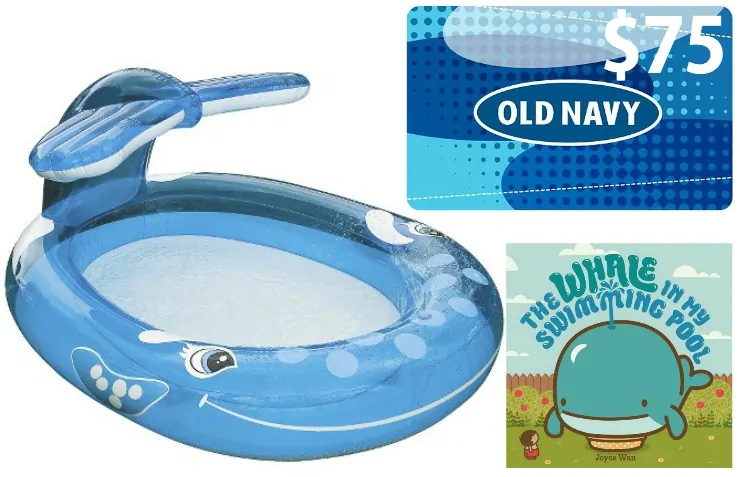 Disclosure: This Twitter Party is sponsored by Macmillan Kids and the new book
The Whale In My Swimming Pool.
Written by Susan Carraretto, co-founder of 5 Minutes for Mom
Talk with me: @5minutesformom and Facebook.com/5minutesformom
Pin with me at http://pinterest.com/5minutesformom/