This post may contain affiliate links. Read my disclosure policy here.
Safety has been on my mind a lot lately.
As you may already have seen, we've been working with Intelligent First Aid to help spread the word about their Talking First Aid kit. And over at our First Aid page, we've been asking you for your Halloween safety tips.
(Remember leaving a comment on our First Aid page gives you a chance to win $149.99 Talking First Aid kit.)
You all have had great suggestions like this one from Zoie:
I think being visible is the biggest safety tip. I carry a cute pumpkin covered flashlight. My oldest wears light up shoes and has a flashing necklace and a matching pumpkin flashlight. I also give them glowsticks to wear and play with.
~Zoie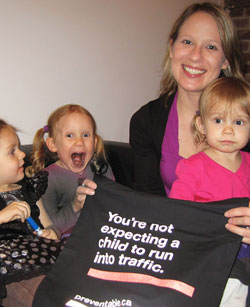 And Thursday night, again I was reminded of the importance of taking safety seriously on Halloween and everyday. Rob and I brought Sophia and Julia to a Halloween themed party hosted by preventable.ca.
The get together was a fun time of mingling with other bloggers, members of The Community and staff from Preventable.ca.
Preventable.ca is working to help people recognize that "preventable injuries are the #1 killer of British Columbians between the age of 1 and 44. By changing our attitudes, together we can prevent these injuries."
Often all it takes to avoid a fatal injury is a reminder ahead of time to safely keep your dishwasher detergent out of reach or to not separate your medication out into a daily serving container that is not child-proof.
Sometimes it's a reminder about something we already know and other times we might never have recognized a potential danger.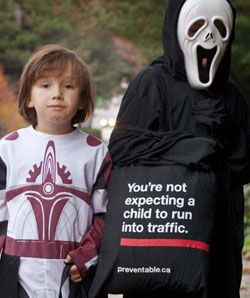 I think we can all daily use a reminder when we are driving through neighborhood streets to constantly be prepared for a child to run out into traffic. And that driver awareness is the message behind Preventable's Halloween themed bags.
The message: "You're not expecting a child to run into traffic."
Especially on Halloween night, if we're driving, we need to be ready for the unexpected.
Visit Preventable.ca for more resources and reminders of how you can prevent your loved ones from injuries.
Wishing you a Happy and SAFE Halloween!!!

~ Written by Susan, co-founder of 5 Minutes for Mom
You get our feed, right?