This post may contain affiliate links. Read my disclosure policy here.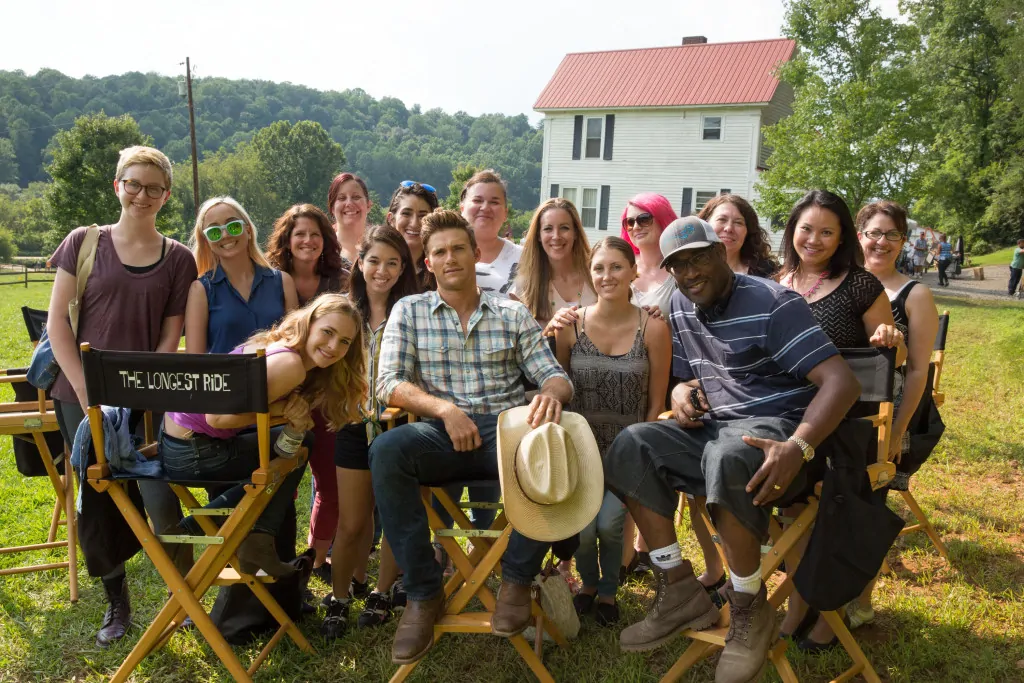 20th Century Fox invited our writer, Jennifer Donovan, on an expenses-paid set visit to North Carolina for Nicholas Sparks' new movie, The Longest Ride, in theaters April 10.
It has been my delight and privilege to attend movie press junkets over the last 5 years or so. This year, I mixed it up with two set visits, a new experience. I have always loved hearing from the directors and producers — the ones who are creating the story — but seeing them at work and being a silent observer of what's going on was pretty cool. Whether it was eating lunch in the food services tent (the food was A-MAZING) watching them film a scene over and over again, or just soaking in the bucolic setting, it was a memorable day.
Not to mention that we got to interview author and producer Nicholas Sparks, director George Tillman, Jr., and get an insider's perspective on the most beautiful locations from a studio rep, and some interesting insider tips from producer Marty Bowen. I also finally was able to ask the burning question I've had regarding what exactly a producer does. I can't say I have come to a full understanding, but he basically said that he'll do anything necessary to help the movie get made, even if that means getting Nicholas Sparks coffee. He actually equated it the the role a wife and mother plays behind the scenes, helping everyone to be a success.
I haven't seen the movie yet, but it seems like a great mix of action and heart and history. Later this week I'll be posting about the amazing setting and backstory behind The Longest Ride. This week I share some of my interview with the key players: Nicholas Sparks, Scott Eastwood, and Britt Robertson.

Here are a few of my personal pictures of the beautiful set.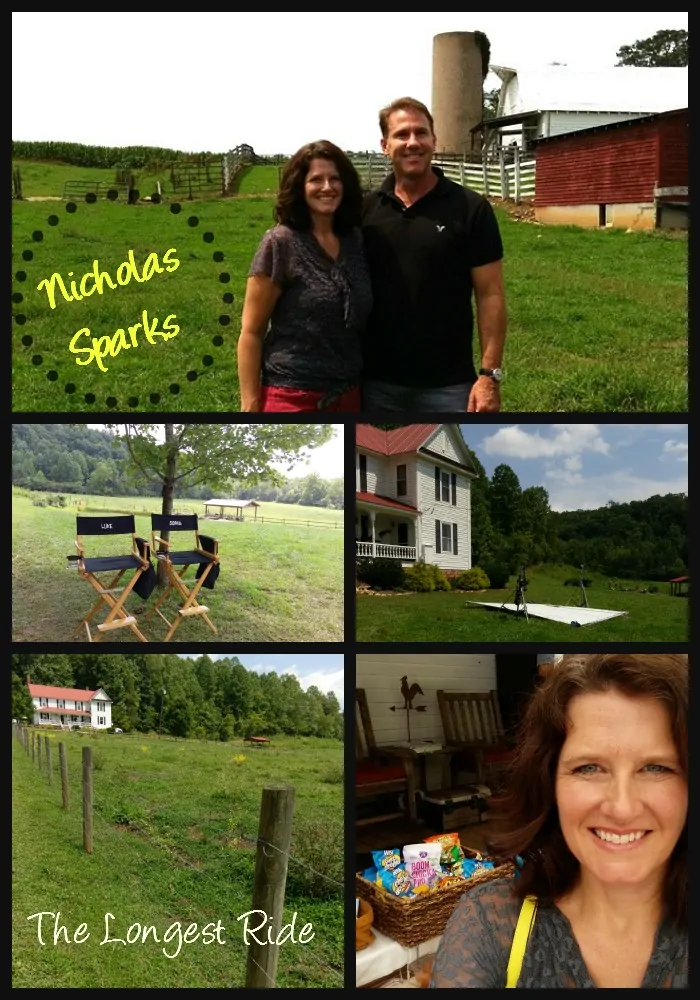 Nicholas Sparks on Scott Eastwood as Luke:
Scott looked the part. He was comfortable with the idea of horses and bulls and all that's stuff. I mean, his dad, right, he's been around it. Very enthusiastic. But mainly, he had the demeanor that we wanted. It was kind of a quieter demeanor with light humor, but he's really enthusiastic at the same time.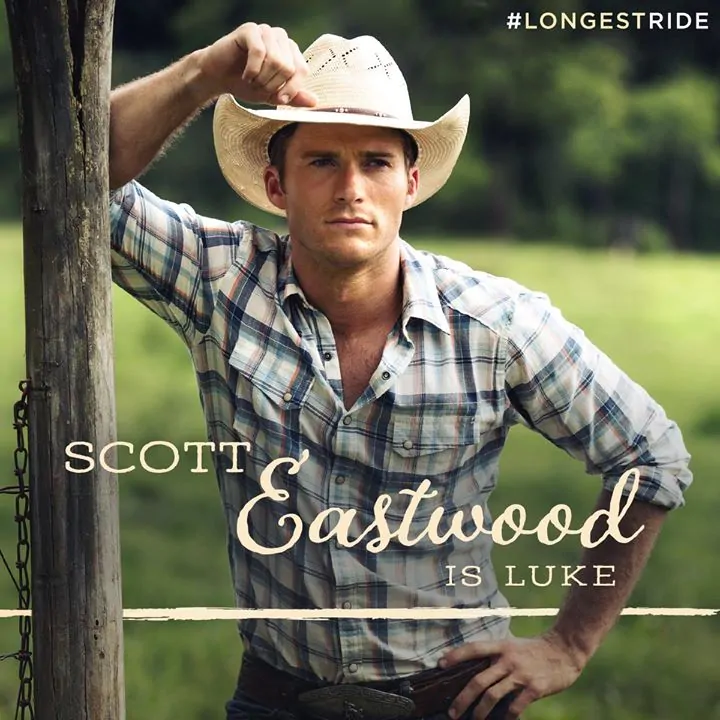 I have to agree that he seemed right at home on the set we visited. It was supposed to be Luke's ranch, and he looked the part of dashing cowboy. I totally bought it.
Scott Eastwood on the role:
I grew up around horses, so it was nice to do a role like this. I really responded to the character in the book. He's kind of a man of few words, and he's kind of a no-bs kind of guy, and I like that.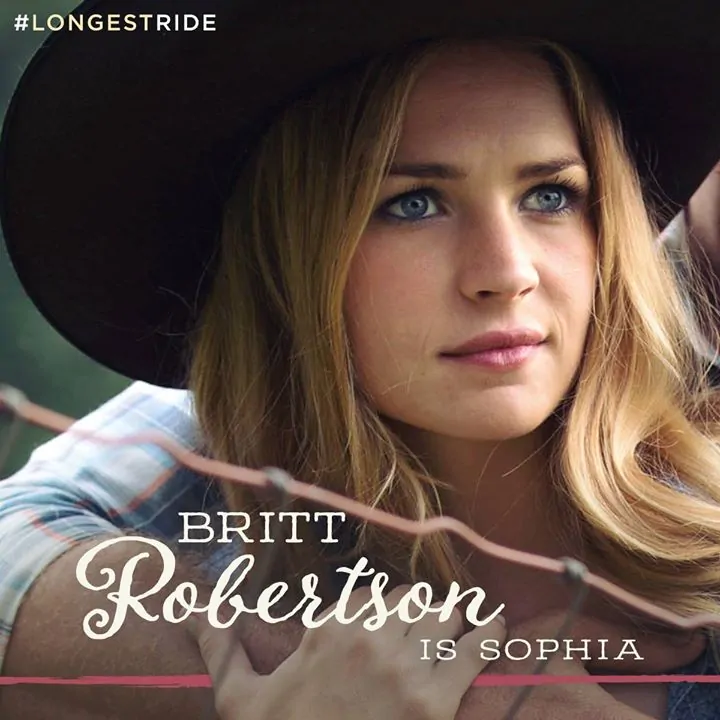 Director George Tillman on Britt Robertson as Sophia:
Also with, with Sophia [played by Britt Robertson], you just have to have somebody who you believe is from Jersey, but at the same time, who has a lot of complexities. She's a very complex character, coming from New Jersey, being singular, goal-oriented. But at the same time, she has to be very likable and very lovable.
As an observer one very short day on set, I bought that as well. She was very charming and lovable (and so young and fresh-faced!). She talked about blind dates and kidded easily with her cast and director. You can see her playful spirit in the group photo, above. She was carrying a large bag with her knitting supplies, which keeps her occupied in all those in-between times on set, which made her seem very approachable and down to earth.
Don't Miss It
Like The Longest Ride on Facebook
Follow on Twitter,  Google+, Instagram
Subscribe on YouTube
Visit the Official Website
#LongestRide

The Longest Ride is in theaters April 10.
Based on the bestselling novel by master storyteller Nicholas Sparks, THE LONGEST RIDE centers on the star-crossed love affair between Luke, a former champion bull rider looking to make a comeback, and Sophia, a college student who is about to embark upon her dream job in New York City's art world. As conflicting paths and ideals test their relationship, Sophia and Luke make an unexpected connection with Ira, whose memories of his own decades-long romance with his beloved wife deeply inspire the young couple. Spanning generations and two intertwining love stories, THE LONGEST RIDE explores the challenges and infinite rewards of enduring love.
Starring: Britt Robertson, Scott Eastwood, Jack Huston, Oona Chaplin, and Alan Alda
Directed by: George Tillman, Jr.