This post may contain affiliate links. Read my disclosure policy here.

Teaching kids music is so very valuable for every aspect of their development – learning good habits, routines, and discipline, and in general expanding their self-esteem, creativity and mental abilities.  We value music greatly in our family – my husband and I met playing guitar in a band together, and our lives practically centered around music until we had our daughter.  Now, we are working at passing down our love for music (and especially guitar) to her, and she absolutely loves it!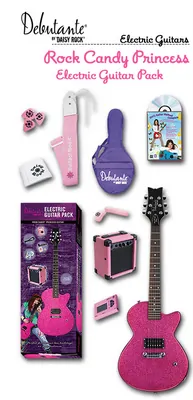 And one thing that makes everything better, in my daughter's opinion, is for it to be pink.  This guitar set by Daisy Rock would rock her world!  This is a full electric guitar pack from Daisy Rock, from their Debutante line.  In it you will find everything that your daughter would need to start her guitar career off right! 
It includes The Debutante Rock Candy Princess Guitar, a 10 watt Amp with volume control, bass controls, and an overdrive switch, a Girls Guitar Method instructional DVD, Guitar Picks, Guitar Strap, a Cleaning Cloth, an Electronic Tuner, a String Winder, and a Gig Bag!
Founded by a girl for girls, Daisy Rock Girl Guitars features the world's largest selection of high-quality guitars designed specifically for females. Debutante is a unique line of guitars made exclusively for beginning guitarists. 
Debutante guitars offer many of the same great quality features available in the Daisy Rock line of guitars, but because they are designed for beginners, they are now available at a lower cost!
The features include "Slim and Narrow" neck profiles, lightweight bodies, and great, eye-catching (and VERY girl-pleasing) designs!
And, since they have everything that you need to jumpstart your daughter's guitar career all in one kit, it's an easy Christmas gift!
We have one Debutante Rock Candy Princess Guitar Pack, retail value $199.99, to give away to one lucky reader!
Here's how you can enter to win:
See our Christmas Giveaway 2009 post to read more about
participating in our Christmas Giveaway

Either link back to this post and include a Christmas Giveaway 2009 button in that post or on your sidebar, or link to the individual giveaways you choose to enter. We have a ton of different buttons and styles for you to choose from. Click here to get the button codes. (If you post and include the button, either in your post or on your sidebar, and link back here, you are good for all the giveaways. No more linking required.)
Please leave one comment below to enter this giveaway. You may earn additional entries for the following:
1. Subscribe to our Feed
2. Sign up for our Newsletter
If you are already subscribed and are on our newsletter list, you qualify for these two additional entries. Go ahead and leave your additional comments below.
As always, non bloggers are welcome to participate! We understand you can't link – but please spread the word to your friends via facebook, twitter, etc.
Entries are open from Tuesday, November 5th through Friday, December 4th at 12pm EST.
Our winner will be drawn randomly and we will announce the winner Saturday, December 5th. Please make sure to check our site and your email address to see if you have won a prize. We must receive your reply within 5 business days. (If you want your prize to arrive in time — the sooner we hear from you, the better!)
This contest is open to US shipping addresses only. Due to legal restrictions, this promotion void where prohibited.

Please see our site's Terms and Conditions of Use for a complete list of our Contest and Giveaway Rules.
* We did not receive a guitar or guitar pack for this review, but Daisy Rock is providing a guitar pack for this contest and for our Under the Tree program.
By 5 Minutes for Mom Contributor, Rachel