This post may contain affiliate links. Read my disclosure policy here.
So I bought a Yoda costume for my 19-month-old, Christian. When I showed it to him at the store, and told him that it was Yoda, he beamed and kept saying, "Yoda, Yoda, Yoda." It was VERY cute.
When we got home from the store, I just HAD to put the costume on him. But he was not in the costume wearing mood. He wanted a snack and was very angry that instead of finding something for him to eat, I was snapping picture after picture and cheerfully asking him to smile for the camera.
So, he was NOT happy! But come on, you would have taken pictures too, right? I mean look at how adorable angry Yoda is!!!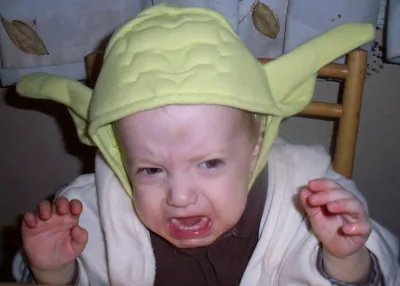 So yes, my youngest is dressing up as Yoda for Halloween. My older two still don't have costumes, but we will be making a trip to the costume shop later today.
What are your children going to be dressing up as?
Also, do you have any Halloween safety tips that you could share with us? If so head over here, and leave a safety tip in our comment section. One commenter, on that page, will win an Intelligent First Aid™ Kit. A $149.99 retail value. The kit really is Spooktacular! 😀
Written by 5 Minutes for Mom contributing editor, Erica.