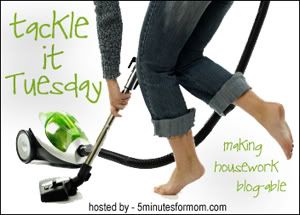 I remember when I was in my early twenties and I lived alone.
One evening as I tossed a load of laundry into the washing machine and then settled down on my Ikea couch with a frozen dinner and an episode of Ally McBeal, I thought to myself, laundry is such an easy task… why does everyone complain about it? You get to watch TV and feel like you're doing chores.
Ohhhh, such a looooooong time ago.
The laundry of a single girl (whose work clothes go to the dry cleaners) is such a different task than the laundry of a family with preschoolers who generate wildly dirty, massive piles of laundry.
I loathe laundry now. It piles up and takes over my home. I walk by and feel defeated and the stains mock me.
Eventually we run out of socks and I have no choice. I must tackle laundry.
So what have you been tackling?
Tell me what you're up to with all your other tackles… housework and otherwise… add your link to your tackle in the Mck Linky below!
bTrendie is a free and exclusive members-only shopping destination offering exclusive designer sales.

We have an exclusive invitation just for YOU! Join now and win a do not disturb spa package, retail value $150.00.
Each week on Tuesday, we are posting before and after pictures of a project or trouble area that we tackled this week.

Find out more about Tackle It Tuesday here.
The project can be little or big – whatever you want.

Basically, Tackle It Tuesday is about giving ourselves incentive, deadlines and satisfaction in getting our household tasks done.

(It doesn't even have to be housework… just whatever is on your To Do list.)
If you tackled a project this week, just add a comment and add your link below.
Happy tackling ladies…
Written by 5 Minutes for Mom co-founder and Mommy Blogger Susan.
Do you have our feed in your reader?
By the way, do you know that Janice and Susan own two online toy stores where you can find a pedal plane or some adorable play furniture for your children?