This post may contain affiliate links. Read my disclosure policy here.
This is Janice, co-founder of 5 Minutes for Mom, with a Gingerbread Kahlua Martini recipe for you to celebrate the holidays and bring in the New Year. Thanks to Kenwood for sponsoring this post.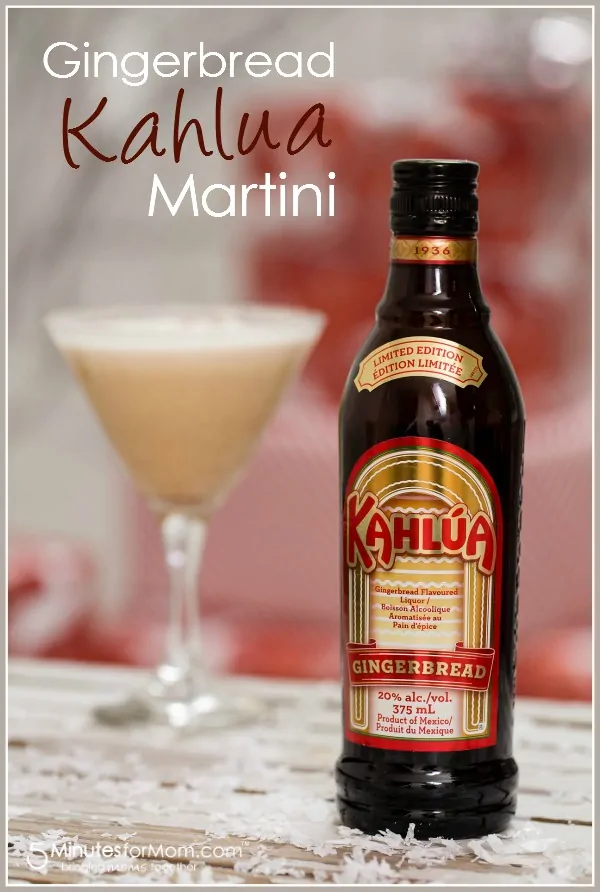 It was eleven o'clock on a Saturday night and I had just finished photographing a batch of Peppermint Kahlua Truffles, when I first made this Gingerbread Kahlua Martini. It was so delicious, but I had no one else to taste it. Everyone was asleep! Fortunately, I had my camera and my lights all set up, so I clicked away to share it with you.
I love the flavor of Kahlua and a few weeks before I had made a grown up version of my Peppermint Milkshake with some Peppermint Kahlua I had bought just as the stores started lining their shelves with holiday trimming and treats.
It was the first time I had tried a flavored Kahlua and I became an instant fan.
I also used the Peppermint Kahlua to make the truffles and they were heavenly. (I really need to hurry up and get that post up this week! All the Christmas shopping has me behind schedule.)
When I went back to the store to stock up on more Peppermint Kahlua, they were all out. I was a little devastated. But they did have this Gingerbread Kahlua — and well they had me at Kahlua.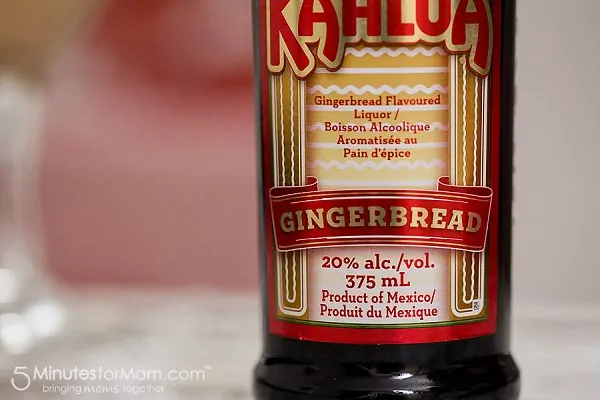 So, as the clock closed in on midnight and I popped one of my Peppermint Kahlua Truffles that I had just photographed in my mouth, I began to figure out a Gingerbread Kahlua Martini recipe.
Ever since I got my Kenwood Blend-X Pro Blender, I have been obsessed with blending. Smoothies, milkshakes, frozen yogurt, cocktails — I just can't resist blending up delicious concoctions.
So a traditional shaken martini wasn't going to do it for me this time. No, this girl wanted some blending power behind her martini. I wanted it foamy and frothy, like a whipping cream topped milkshake martini. And so that is what I did…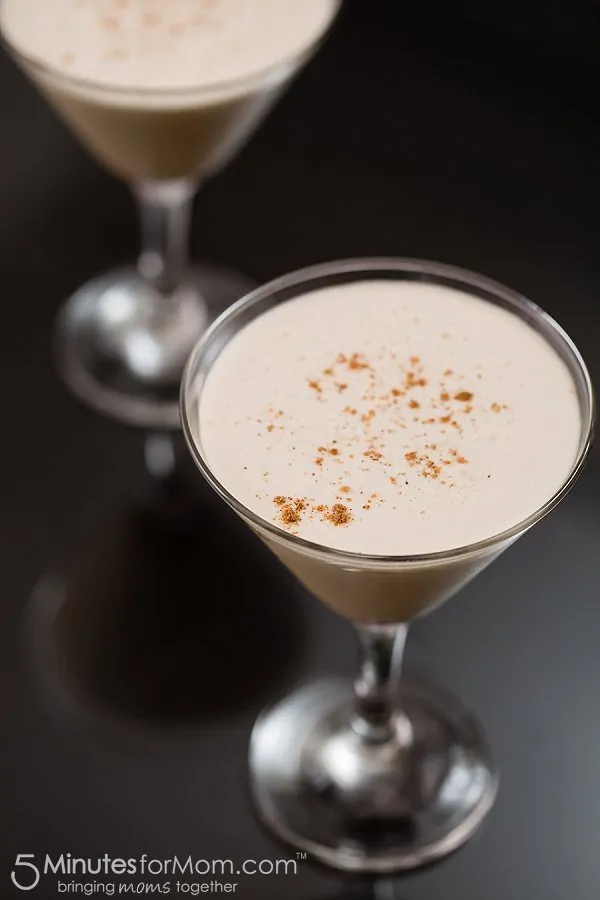 Yes, this "martini" is a bit more of a milkshake than a martini. But call it whatever you want — I love milkshakes, I love martinis, I love Kahlua… I am just bringing together all kinds of goodness and pouring it in a martini glass.
I think my favorite part of blending drinks – whether they are cocktails or healthy, green-infused smoothies – is how quickly and easily you can throw them together. A little of this, a little of that, and you have a new creation dancing with your taste buds.
As I mentioned, I love milkshakes, but I don't love the sugar, fat and calories that come with ice cream. So I often whip up a "milkshake" by simply using ice cubes, milk, and some fruit, peppermint, or a liqueur like Kahlua or Baileys. Once it blends, I have a creamy milkshake with a nice whipped foamy topping. It is delicious.
But for this special holiday martini, I decided to go all out in richness and use a heavy cream. Since it is only a martini glass portion, not a milkshake glassful, and it is not a drink I would indulge in every night of the week, I reconciled the decadence of the heavy cream.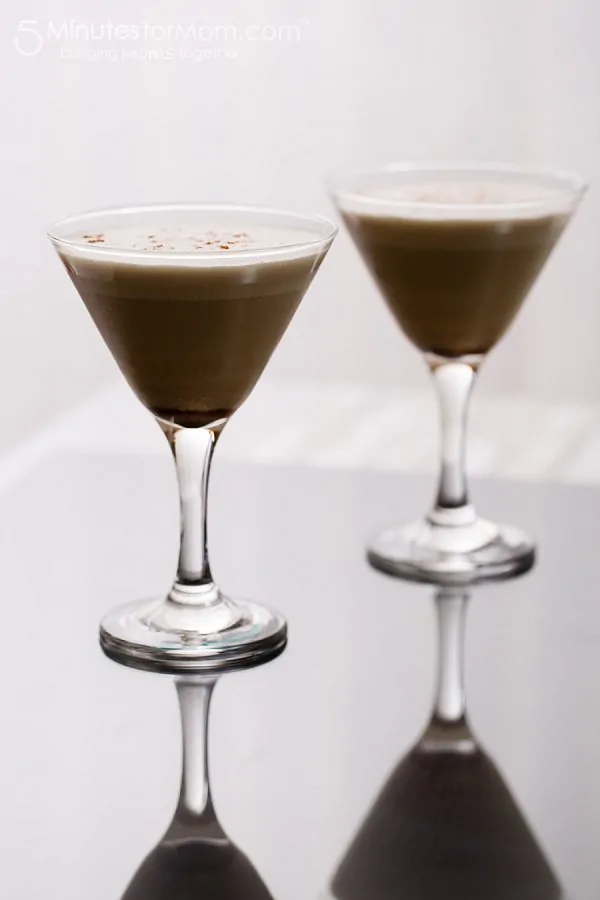 I blended together a handful of ice cubes and equal parts of heavy cream, vodka, and Gingerbread Kahlua.
To enhance the gingerbread flavor, I added to the mix a couple drops of dark molasses, a dash of pumpkin pie spice, a pinch of cinnamon, and then a sprinkle of nutmeg to garnish.

I selected the Drinks button on the blender and within seconds I was pouring the smoothest, creamiest "gingerbread" I have ever tasted.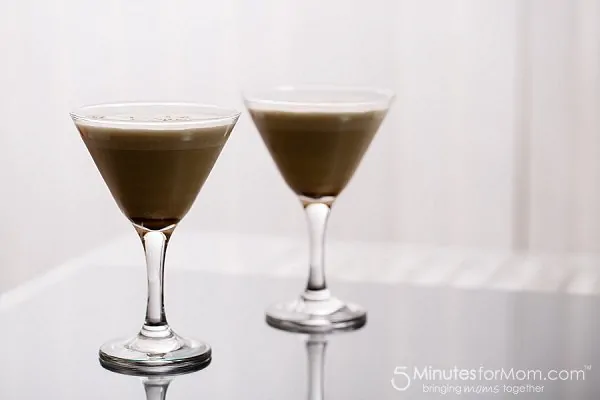 Gingerbread Kahlua Martini
A delicious creamy Gingerbread Kahlua Martini recipe for you to celebrate the holidays and bring in the New Year.
Print
Rate
Servings: 2
Ingredients
4-6 ice cubes
2 shots cream
2 shots vodka
2 shots Gingerbread Kahlua
pinch of cinnamon
⅛ tsp pumpkin spice OR pinch of ginger all spice, cloves, nutmeg
nutmeg to sprinkle for garnish
Instructions
Add all ingredients to blender and blend until smooth

Pour into two chilled martini glasses

Garnish with nutmeg

Serve immediately

Written and photographed by Janice Croze, co-founder of 5 Minutes for Mom.
Disclosure: I received product from Kenwood to review and test out in my kitchen, along with compensation for my time to create and publish this recipe. All opinions are entirely my own. This post is in compliance with the FTC and its regulations.