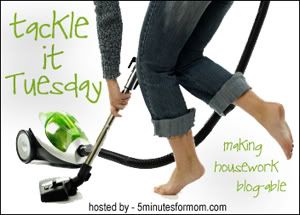 Hi everyone. It's Erica here, handling this week's Tackle It Tuesday duties.
Over the summer, I called our local Girl Scouts office to inquire about having my 5-year-old daughter, Audrey, join the Girl Scouts. I was never a Girl Scout growing up, but I had always wanted to be.
As a child, I was very busy with several dance classes, choirs and performance troops, so sadly there just wasn't room for Girl Scouts.
But for my daughter, Girl Scouts is perfect! She isn't currently committed to any other activities. She loves crafts and absolutely adores the outdoors. I love how service oriented it is. But when I called to sign Audrey up, I was told that her school didn't have a troop.
So I did what any mom, who REALLY wants her daughter in Girl Scouts, would do — I signed up to lead a troop. I am now the proud leader of Daisy Troop 2186!
The past couple of months have been a little bit busier as I have had to attend training classes. There has been a lot to learn and a lot to take on. At the end of September, I held a Parents Meeting and was delighted when I had 14 girls sign up.
On October 3rd, we had our first meeting and it was such a blast. My girls are great and all of the moms have offered to help in some capacity, which is wonderful! I am so excited for this upcoming year and already have some really fun things in store for the girls.
Our troop's next meeting is this upcoming Saturday, so tonight I have been tackling The Kaper Chart. Thanks to Google, I found plenty of examples, and used those to come up with a chart that is perfect for my troop. Isn't it cute?!!?!?
I am sorry that the picture is blurry. The chart is so very big, it was hard to get a good shot of it.
The Kaper Chart lists all of the jobs to be done during a meeting. I then rotate tunics around the board, assigning a job to each girl.
Each girl has a tunic, which I labeled, laminated and then glued to a mini clothespin. Thanks to the clothespin, it is easy to move the tunic around the board. For this post, I am only showing my daughter's tunic, as opposed to showing the chart with all of the tunics displayed, because I want to respect the privacy of my girls. But just imagine 14 tunics placed all around the chart.
I can't wait to show my troop the finished Kaper Chart on Saturday. I hope they like it.
I'd love to hear from any of you ladies who were in the Girl Scouts. What are your fondest memories? I'd also love to hear if any of you are troop leaders or co-leaders.
I'd also love to see what YOU are tackling today. Add your link to your tackle in the MckLinky below!
Each week on Tuesday, we are posting before and after pictures of a project or trouble area that we tackled this week.

Find out more about Tackle It Tuesday here.
The project can be little or big – whatever you want.

Basically, Tackle It Tuesday is about giving ourselves incentive, deadlines and satisfaction in getting our household tasks done.

(It doesn't even have to be housework… just whatever is on your To Do list.)
If you tackled a project this week, just add a comment and add your link below.
Happy tackling ladies…
Written by 5 Minutes for Mom contributing editor Erica
Do you have our feed in your reader?