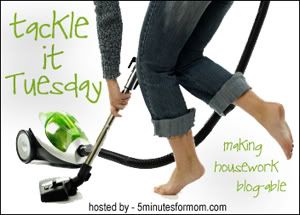 This week we have our former resident tackler, Jena Webber, dropping in for a guest tackle. Thanks Jena! So glad to have you back. 🙂

Jena, also known as the organizing mommy, blogs at Organized Everyday.
Hi, I'm Jena, that zany "organizing mommy" that lives for a good tackle, or blitz for that matter. When I read about how busy you blogging ladies are (doing fabulous things!), no wonder you are overwhelmed with your homes.
Come to think of it, I'm almost as busy as the rest of you, but I do a few little treats for myself to help me get organized and have some loose semblance of order in my life.
1) SAY NO to activities once a week.
I claim Thursdays as my day to be at home.
It's incredible how much you can get done if you aren't running, running running all of the time. It can be any day, but choosing one day really helps. So, I can tackle a week's worth of laundry on Thursdays. I also love to make bread!
Incidentally, I go as long as possible in the day without going on the computer. I just stay focused on household tasks. I do a ton of planning, including a thing I call the blitz. Each Thursday night, I encourage you to plan your weekend and link up for my Blitz-it Friday theme.
It's amazing how much more fun and relaxing your weekend is when you plan for it. (in other words, get a lot done and have time for a nap also!)
2) Make my bedroom a haven.
That's right. I've decided to claim the real estate in my bedroom and make it special. Use these
organizing principles
to help you get started.
So, every morning, I put away the junk, and re-create the haven-like spot. I'll admit it, everyone likes it in there. Occasionally I find kids in there just reading or hanging out because Mom's space is the cool place to hang out.
Go figure! When I have guests, as we often do, I just go in there and hide occasionally. Not that I get overwhelmed with my family, my guests, or my life.. but if I did, I can go hide in there.
3) Take time for the Lord. I can count on one hand how many "good days" I've had in this life without first going to the Lord. In other words, there aren't many. And the only reason those days were good is because I did make time for the Lord eventually.

So, these are some basic things I do to give myself some sanity. There's plenty of temptations for me to be insane and over-committed, but I try to keep these tent pegs in place. Visit my blog for your daily dose of humor and butt-kicking at
organized everyday.
What are YOU tackling? Add your link to your tackle in the MckLinky below!
Each week on Tuesday, we are posting before and after pictures of a project or trouble area that we tackled this week.

Find out more about Tackle It Tuesday here.
The project can be little or big – whatever you want.

Basically, Tackle It Tuesday is about giving ourselves incentive, deadlines and satisfaction in getting our household tasks done.

(It doesn't even have to be housework… just whatever is on your To Do list.)
If you tackled a project this week, just add a comment and add your link below.
Happy tackling ladies…
Written by a Guest Contributor and published on 5 Minutes for Mom
Do you have our feed in your reader?