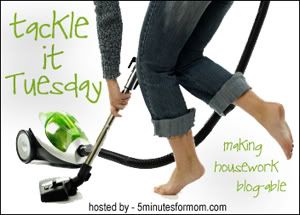 Again I have been slack in the household tackling department.
If you followed my Facebook profile over the weekend, or saw this post… you'll know I've been busy… but I hate to say pretty much no housework has been done.
The good news is that we are tackling some exciting improvements here at 5 Minutes for Mom.
Hint, hint… it's all about improving our community and giving you more ways to interact with each other. But you'll find out all about it on Thursday. (Well, Wednesday if you are subscribe to our newsletter… if you're not yet, you can sign up here.)
So I'm sorry that I have no shocking before and after photos of household messes this week.
But please… show me yours! (Maybe I'll get really inspired and pull myself away from this computer.)
Tell me what you're up to… add your link to your tackle in the Mck Linky below!
Each week on Tuesday, we are posting before and after pictures of a project or trouble area that we tackled this week.

Find out more about Tackle It Tuesday here.
The project can be little or big – whatever you want.

Basically, Tackle It Tuesday is about giving ourselves incentive, deadlines and satisfaction in getting our household tasks done.

(It doesn't even have to be housework… just whatever is on your To Do list.)
If you tackled a project this week, just add a comment and add your link below.
Happy tackling ladies…
Written by 5 Minutes for Mom co founder, Susan Carraretto.
Do you have our feed in your reader?