This is a guest post from Brittany at My Decoupaged Life.
My brother-in-law recently came home from a deployment to Afghanistan. About a week after he came home we went to visit him and his family. Since they were opening up their home to my family, I knew I didn't want to arrive empty handed, so I whipped up this sign with pictures I snagged from my sister-in-law's Facebook.
Supplies Needed:
Four digital pictures (I used one of the whole family, one couple picture, and one of each of their kids) The pictures need to be vertical as well.
Lumber: 1×6
Mod Podge
Computer Paper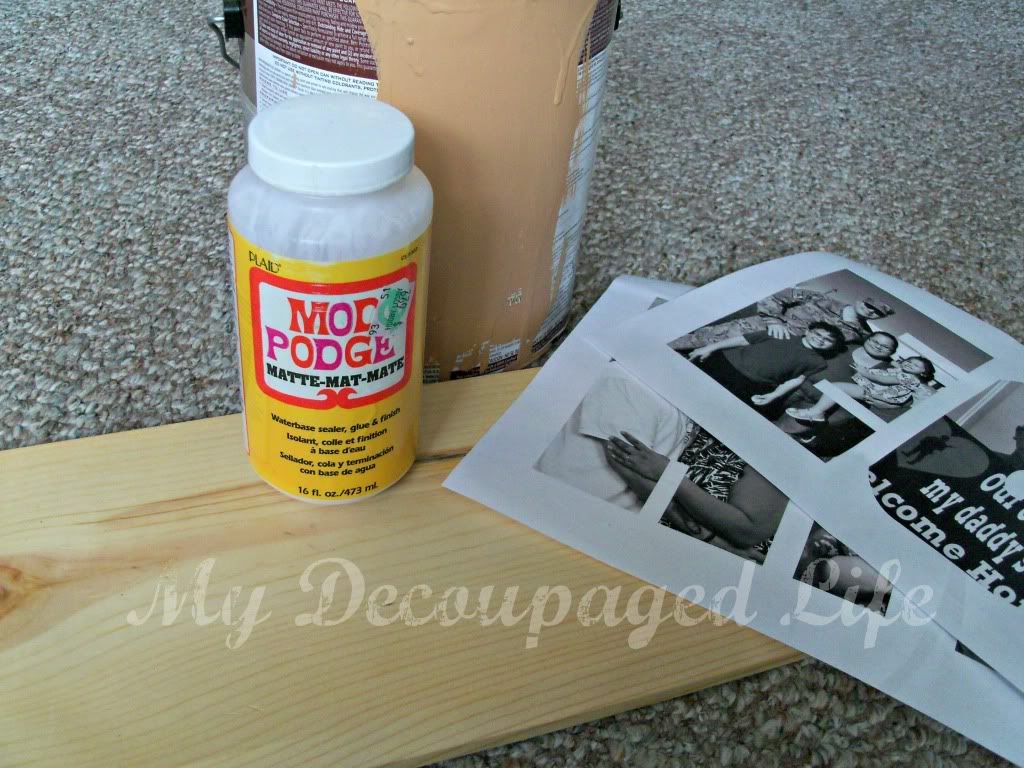 Step 1: First choose the photos you are going to use. It's easiest if you already have digital copies. Then go into a photo editing program. I personally am partial to PicMonkey, but you can use any, really, so long as they have shapes you can place on your photos. Go into the shapes overlay part to create your letters. This was really easy. Open the picture you plan on using as the letter "H". I chose to turn my photos to black and white, but this was a personal preference. Place two white rectangles on the top and bottom to create the letter: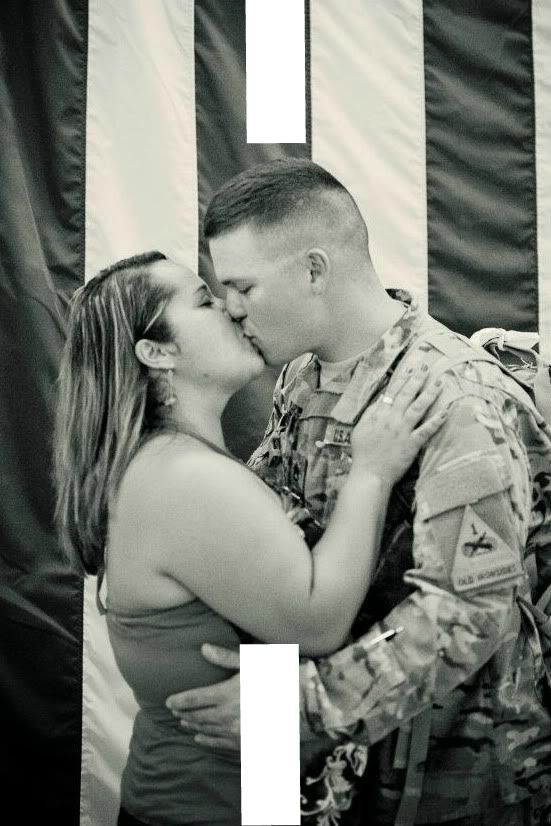 For the "O" I first rounded the corners using the borders option. Then I added an oval to the middle. Now obviously you want to be careful to not put the oval (or any of the shapes) over faces.
The "M" is probably the most complicated. Start with a triangle at the top (you may have to rotate it to get it the position want. On the bottom add a square. The add two triangles (rotating them into position).
Finally for the "E" just add two horizontal rectangles. Play with them until they fit how you want.
Print your pictures on regular paper and cut them out. Set them aside.
Step 2: Paint the board you plan on using. I used a brown because that's what my sister-in-law said would match the best with her living room. Let dry.
Step 3: Decoupage the pictures onto the board using some Mod Podge. If you are unfamiliar with this, that's ok! Using a sponge brush, put a light layer of glue down on the wood. Carefully place your picture in place and smooth out. Let dry completely. After all the pictures are in place and the glue has dried, use the sponge brush to put a layer of glue over the top of the pictures to seal it. Be careful to not put to much or else it might discolor the pictures. If there a few little bubbles DON'T PANIC! They generally correct themselves as the glue dries.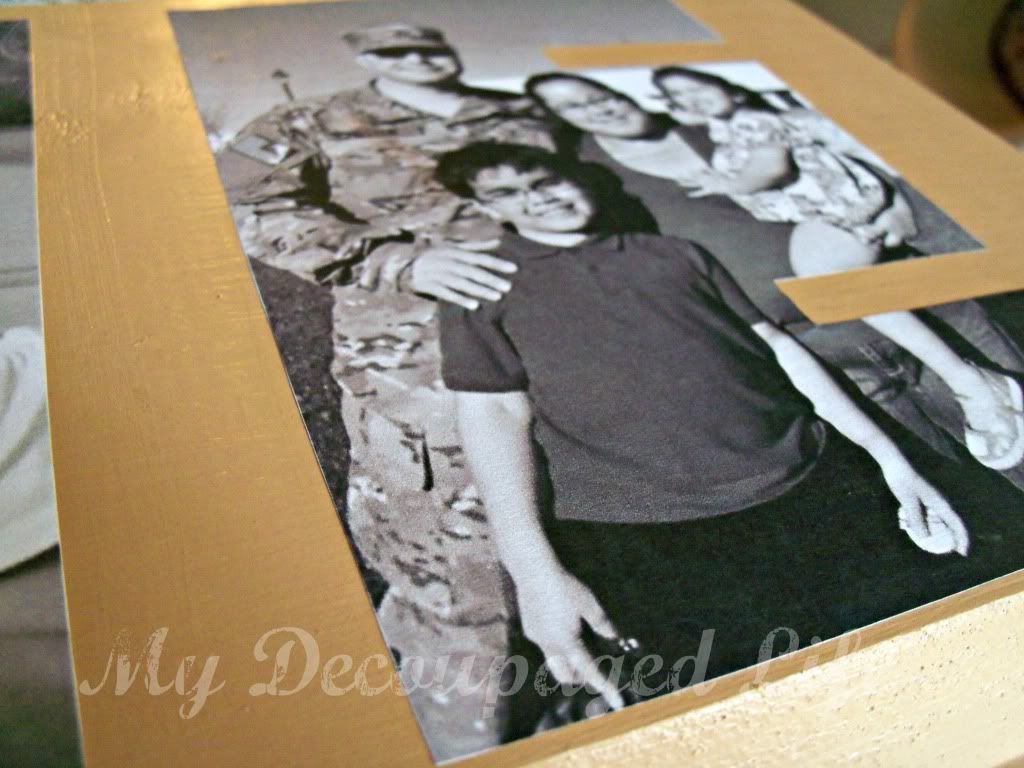 You can add little picture hanging claws on the back if you like. Otherwise you're done! I was really pleased with the final product. What do you think? I keep thinking of all the variations I could make for Christmas presents (yes, I really said the C word in August!)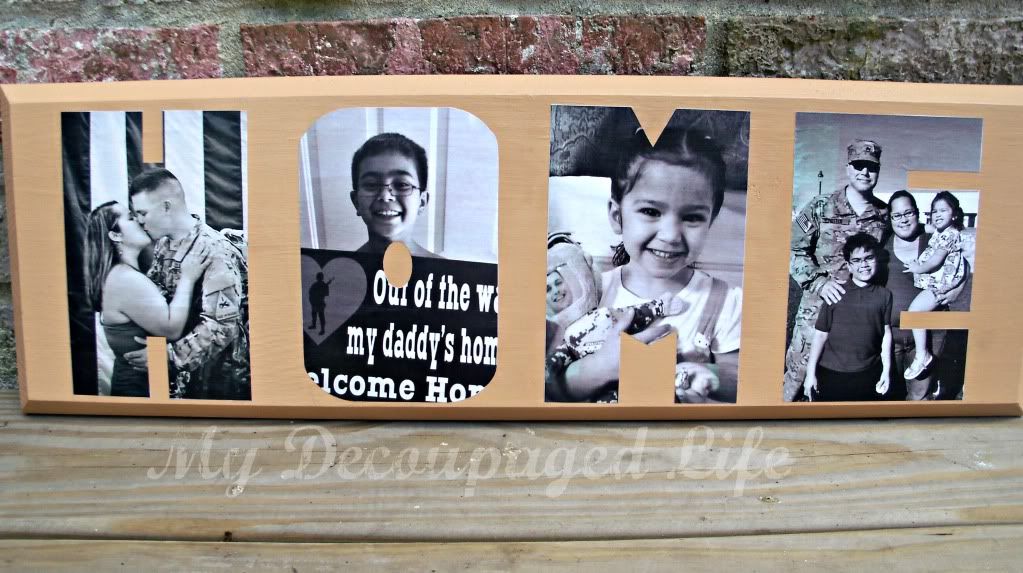 Brittany is a stay at home mom to two little girls. When she's not busy keeping up with them she loves to create and blog about her creative adventures. You can join her at My Decoupaged Life. She's also on Facebook and Twitter!