The post is written by Elena Vakhromova, a software enthusiast and marketing manager at Freemake.com. The article focuses on tech gadgets for kids and lists a few of the most popular ones.
High-Tech Gadgets…for kids!
Hi-tech gadgets are having an increasingly significant impact on our adult lives. Just imagine a day without your cell phone, iPad, MP3 player, or camera – it seems almost impossible! What about your kids? Do they know all these things? Is it worth introducing hi-tech gadgets to your little child and trying to explain why you're so much obsessed with them? Obviously, yes – since the earlier you start bringing your kid into technology, the easier his or her technical socialization will be.
With this in mind, contemporary toys manufacturers pushed into the market special gadgets for little tech enthusiasts. Most of them visually imitate the devices for grown-ups but feature child-only functionality. Here are some of the best gadgets designed especially for kids.
Innotab

Price: $80

Age: 4 to 9




VTech Innotab a popular learning tablet often referred to as "iPad for toddlers". It's slim, lightweight, durable and features a 5-inch color touchscreen display, 64MB of built-in memory and SD card slot for memory expansion. Innotab comes preloaded with a variety of fun apps, games, e-books with the opportunity to get more through VTech's Navigator. With Innopad kids can draw, play games, develop skills in reading, spelling, maths, logic and creativity. It also has an on-board photo editor, MP3 and video player. There is no Internet access, so no fear that a child can go online.
LeapPad Explorer

Price: $100

Age: 4 to 9




LeapPad from LeapFrog is another iPad-style learning tablet for kids. It offers 100+ fun and educational apps, ebooks, games and other activities to improve reading, maths, art, music, language, geography and other skills. It has a beautiful 5-inch touchscreen and looks very tough and pretty. LeapPad provides 2GB of onboard memory, but there is no memory card slot to expand storage. LeapPad comes well-equipped with multimedia features as well: still and video camera, voice recording via built-in microphone, and motion-based accelerometer. It also has video and MP3 player, art and animation studios for children to create their masterpieces.
LG Migo

Price: $60

Age: 5 to 10




LG Migo from Verizon Wireless is a kid-friendly wireless phone that lets children and their parents stay connected. The phone has a simplified keypad that allows you to program in 4 numbers, a speakerphone, a dedicated emergency key and a pair of buttons on the side for dealing with call volume. It looks very stylish with its bright green color and blue backlit LCD. No surprise that the interface is very simple: the cell phone is just for calls, it can't be used to send or receive text messages. The Migo isn't waterproof, but it's durable enough.
PeeWee Pivot

Price: $575

Age: 3 to 10




PeeWee is a kid's personal laptop which lets pre-teens run basic programs thanks to an Intel Atom processor and Windows 7 Starter OS. With a full qwerty keyboard, a built-in webcam and a 10-inch touchscreen that flips around to turn the thing into a tablet, PeeWee Pivot is a fully-functional, durable and lightweight. The laptop comes with an attached stylus so kids can practice handwriting and offers a wide range of art and educational games for pre-k, kindergarten and advanced kindergarten levels. PeeWee provides access to the Internet, however due to the security software parents can limit the time their children spend browsing, block inappropriate sites, and even control the laptop remotely.
Kids CyberNet Station

Price: $2000

Age: 5 to 11




Kids CyberNet Station is an all-in-one PC intended for kids. Basically, it has everything indispensable for a regular PC: Intel Dual Core processor, 19-inch screen, Intel 3D Enhanced graphics, 4GB RAM, 500GB HDD, DVD recorder, USB and HDMI ports, Wi-Fi and Windows 7 OS. What differs CyberNet Station from an ordinary PC is a lot of pre-installed applications aimed at kids of different ages, Peanut Butter desktop sandbox which hides unnecessary for kids Windows components and colorful keyboard and mouse.
MoviePix Kids Digital Video Recorder

Price: $55

Age: 4 to 9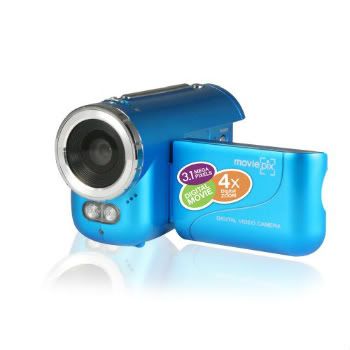 MoviePix Video Recorder lets youngsters can take photos, record videos and voice. It features a 4x digital zoom, the ability to take 3.1 megapixel still images and use different video recording modes. It is simple enough for a kid to use yet advanced enough to make them ready to use far more sophisticated camcorders. Exposure and color balance can either be adjusted automatically or allowed to be changed manually. This product also works as a portable storage device and a Web camera as well. The SD memory card slot allows you to increase the storage capacity to 4GB.
Latte Miffy MP3 Player

Price: $20

Age: 3 and up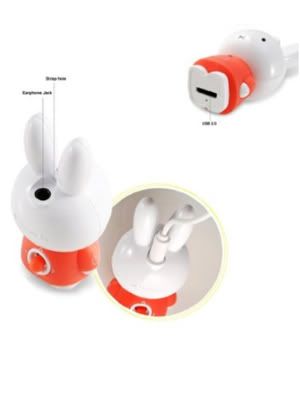 Miffy MP3 player is modeled after the popular little bunny comic by the same name. It can store up to 500 songs and the internal battery will play for 12 hours before needing to be reloaded. The player charges on an adorable grassy dock with a little house! Kids can even change Miffy's clothes since they're made of silicone and easy removable. Miffy plays both of the most popular audio formats: MP3 and WMA. You can listen to the music using earphones from the player, the docking station with speakersor even the line-in port to play the music from any other music player.
Conclusion
The market of tech gadgets for kids is small yet but fast-growing. For most parents it still doesn't make sense to buy pricey children's iPads or PCs. However, there is one definite advantage of such toys: from an early age, kids are getting more accustomed to the idea of using tech devices for education and entertainment. So as time goes by, we have chance to see young geeks whose tech-saviness will surpass ours by many times.
About the author
Elena Vakhromova is a guest blogger and social media marketer. She enjoys writing about popular multimedia apps and takes an active part in their promotion in social media. Elena works for Freemake.com, an online freeware project that offers free video/audio conversion and YouTube download tools.