So Who's Up For a "Group" Run? 5M4M Contributor Christie O. wonders…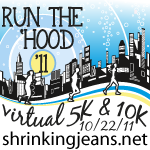 It's already the beginning of September and by now our fitness plans for the New Year have either solidified or derailed.
And I don't know about you, but some of us, I'm not naming any names here (me) did pretty well for the first half of the year but now just need another mid-year boost.
Routines get tired after a while and frankly so do I and the motivation doesn't just make itself (and boy I wish it did.) The excuses are piling up as I write this (right now it's raining and that sounds like a great excuse to miss my run tonight!)
So we were wondering if you were interested in doing a "Virtual" 5k, 10K or 1 mile family fun run? By "virtual" we mean that we all pick one of the distances, train for it, and then run it "virtually" — yet together — on the same day, October 22nd, in our very own city.
The Run The 'Hood Virtual 5k & 10K Oct. 22nd
The Sisterhood of the Shrinking Jeans is holding their 2nd annual Virtual "Run the Hood" race. If you sign up by September 22nd, you get a tee-shirt AND a medal for finishing! Just like a real race! Only with this one, you can run around your OWN neighborhood, your OWN favorite trail, with whomever you choose and the best part is, you don't have to get up at 5 a.m. to get to park and get to a 7 a.m. starting line — you can do it whenever you want that day!
We'll be Your Virtual Partners!
Here's the togetherness part: if you are interested in running the Virtual Run the Hood race , we will hold a weekly link up here on Fridays to link up how our training is going. You can comment about how your training is going or you can post and link the post up. We shouldn't do this alone! That's what makes it a virtual race! We're in it together! I am doing it, I am also a contributor at the Sisterhood of the Shrinking Jeans, but I love to spread the motivation everywhere. And plus I draw motivation for myself from all of you!
The 5K is close to my own heart
A virtual race is the perfect time to get into running if you have ever thought about it but haven't known where to start. This is how I got my jumpstart. During my pregnancies, I was well over 200 pounds. After they were born, I settled in at about 55 pounds overweight.
I began to believe that was where I was destined to stay. I had always had a rough time losing weight and have always been bitter at my metabolism that seems to hate me.
But playing with my babies while I sat on the floor was painful.
Out in the real world, I felt invisible.
I didn't really want to leave the house.
It was supposed to be the happiest time of my life, and with my kids alone in my house, it was. But personally, as a wife and as a woman, it was one of the worst periods of my life. Ever. And I didn't know how to get out of it.
Then one day, a friend forwarded me a picture of a girl holding a baby at a birthday party and I didn't know who it was.


It was me.
I was devastated because at that moment, I realized I didn't recognize myself inside OR out.
Through my tears, I immediately logged onto the computer, found a 5k and a running program called Couch to 5k.
It changed my life. I did it on my own, but you don't have to. It's so much harder to do it alone, trust me. I know this is a long spiel for a 5k but I am less about running races and working out and more about changing my life and trying to inspire other people to do the same.
So I'm reaching out to all of you wanna-be runners, first-time runners, wanna-get-back-into-it-runners and wanna-get-the-family-moving runners & walkers too or just wanna-get-back-into-shapers!
Do you want to do this with me?
I have gathered a group of friends and family and we are all running this together in my city down here in Florida. Some of us are doing the 5k, some of us are doing the fun run.
The best part about this is that I have a triathlon earlier that morning, and I'll be running again later in the day. Couch to 5k started that.
I don't know where the journey will take you but this could be your start, your restart or just another fun turn in the road.
But the journey took me to biking and swimming too but more importantly it took me to just believing in myself and if you don't think a simple little 5k will do that, I can tell you that it sure can and it probably will. Maybe you'll inspire someone else in your world. I lost 17 pounds after my first 5k (along with eating well), and it jumpstarted me into living my life again.
I realize running isn't for everyone and that's ok, this is all just fun, so join us for a nice long walk!
But if you're in, go register, and leave a comment below. If we have enough people who are interested in doing this "together" and by "together" I mean "virtually together", the training linkups will commence next Friday with a wrap up of Couch 2 5k WEEK 1! You can start the plan on Monday! (That gives you the weekend to think about it!)
Think of it as a jumpstart to the New Year.
Who wants to start when everyone's starting on January 1st anyway?!
Written by 5 Minutes for Mom contributing writer, Christie O.