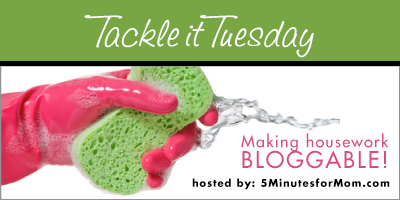 Today we have a fabulous guest Tackle from Kati Chevaux, the Editor at Cozi.com, the #1 most popular family organizing app.

Cozi is free and has a calendar , to do lists and shopping lists that the whole family can share. Today she'll talk about using to do lists to get things done.
Aren't lists great?
Just making a list feels like an accomplishment – because you've organized your thoughts and prioritized what needs to get done.
And checking off feels even better. It must, because we've heard this from our families more than once, "Sometimes I add an item that's already done to my list just so I can check it off!"
Here are some other tips for making the most of to do lists from the real experts – busy families:
Start a master to do list. Use this list to jot down tasks as soon as you remember an item that needs to get done, but can't get to it right away.
Make a to do list for each day or each week. Select a few items from the master list that are top priority. This helps to avoid the I-have-so-many-things-to-do-I-don't-know-where-to-start syndrome.
Never lose the list! Cozi to do lists are part of the Cozi mobile app so all members of the family can see the to do lists from wherever they are. And for those without smartphones, you can email or text a to do list to yourself or another family member. That way you can remind your spouse that today is the last day to get the deal on airline tickets, or remember to make calls to the dentist and cable company when you're waiting for the kids in the pick up line.
Put a time frame on your to do list items. If you like lots of order, assign yourself some time to get each task one done, like a series of mini-appointments for the day.
Use lists to help you accomplish bigger projects like daily, monthly and seasonal cleaning, kids' birthday party planning, or planning a Memorial Day party.
And, finally, there is something magical about handing a child a list of things to do instead of telling them. Try it for the school morning routine checklist or for cleaning chores for the kids, it just might work!
Mom Bloggers — what are you tackling this week? Link up your Tackle it Tuesday post…
Tell us what you're up to with all your other tackles… housework and otherwise… add your link to your tackle in the Linky below!
We are making housework bloggable — Each week on Tuesday, we are posting before and after pictures of a project or trouble area that we tackled this week.

Find out more about Tackle It Tuesday here.
The project can be little or big – whatever you want.

Basically, Tackle It Tuesday is about giving ourselves incentive, deadlines and satisfaction in getting our household tasks done.

(It doesn't even have to be housework… just whatever is on your To Do list.)
If you tackled a project this week, just add a comment and add your link below.
Here is a fun thumbnail linky:
And here is a basic linky if you prefer your linkies the good old fashioned way!
Written by Susan Carraretto, co-founder of the Mom Blog 5 Minutes for Mom.
Talk with me: @5minutesformom and Facebook.com/5minutesformom.