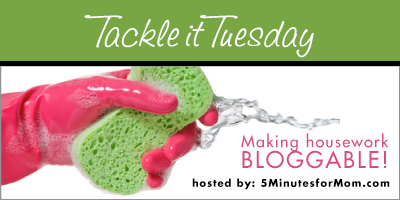 My Living Room is a TOY Room!
Toys have taken over our living room and it's time to fight back.
Ever since we got our puppy AJ, I have had to keep all of the kids' toys out of the family room area because AJ likes to consume everything. We have a "great room" that has the TV area/family room attached to the kitchen and that is where we keep the dog.
So, the toys Olivia are playing with during the day end up all over the living room floor.
I have been meaning for years to find a nice box/chest for the toys. Finally, I bought this small chest from Walmart.
And it does the job! Yay for a tidier living room!
Wishing you Happy Tackling!
What are you tackling this week? Link up your Tackle it Tuesday post…
Tell us what you're up to with all your other tackles… housework and otherwise… add your link to your tackle in the Linky below!
We are making housework bloggable — Each week on Tuesday, we are posting before and after pictures of a project or trouble area that we tackled this week.

Find out more about Tackle It Tuesday here.
The project can be little or big – whatever you want.

Basically, Tackle It Tuesday is about giving ourselves incentive, deadlines and satisfaction in getting our household tasks done.

(It doesn't even have to be housework… just whatever is on your To Do list.)
If you tackled a project this week, just add a comment and add your link below.
Written by 5 Minutes for Mom co-founder Janice.
You get our feed, right?