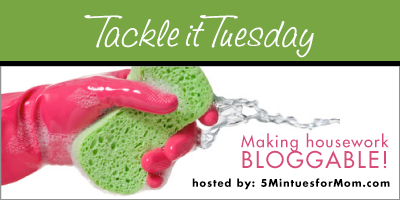 Jennifer here, joining in for a Tackle…
I know that for most moms — even super-tidy ones — the car seems to be a clutter-magnet. With all we moms have to do, sometimes the car feels like our home away from home and tends to accumulate trash, activities, food, and gear.
Please tell me that I'm not alone in this! For me the car is a battle, and let me admit right now that in my life, the clutter usually wins.
We ended December by driving from Connecticut to Virginia to visit family for Christmas. But this wasn't any normal Christmas trip, because after we left there, we were driving to Texas to move there for good! So in addition to a big box full of gifts, we had supplies for our roadtrip, which means plenty of activities and books to keep everyone busy and happy, snacks, a 40-pound dog, a couple of weeks worth of clothes, and more.
We arrived in Texas without a hitch and our moving van with all of our stuff made it too. The focus quickly became unpacking all of those boxes. The car was used as a shuttle to those endless trips to the grocery store to get essentials, to the discount store to get everything else, to home stores to get the essential odds and ends like rugs and lamps.
Weeks later, the car had still not been fully unpacked or cleaned out. The activity books that Kyle had taken along, the art projects that Amanda had brought home from school in the last days and couldn't be packed away were all among the items stashed in the car.
I have a pretty high mess threshhold, but this month it even started to bother me.
On a sunny Friday, I tackled the inside of the car. I had to start by clearing out the new throw pillows and rug that I had bought (days before!) from the cargo area.
Then I tackled the general clutter of the backseat.
The hard work paid off, because my husband took it to the car wash on Saturday and since the floors were clean, the inside got detailed too.
Much better!
Kyle's car activities (which we always have with us) are contained back in his blue canvas bag as they should be. He always is thirsty, so I put a fresh bottle of water in his booster cup holder.
What about you? What hot spot of clutter or mess did you tackle this week?
What are you tackling this week? Link up your Tackle it Tuesday post…
Tell us what you're up to with all your other tackles… housework and otherwise… add your link to your tackle in the MckLinky below!
Each week on Tuesday, we are posting before and after pictures of a project or trouble area that we tackled this week.

Find out more about Tackle It Tuesday here.
The project can be little or big – whatever you want.

Basically, Tackle It Tuesday is about giving ourselves incentive, deadlines and satisfaction in getting our household tasks done.

(It doesn't even have to be housework… just whatever is on your To Do list.)
If you tackled a project this week, just add a comment and add your link below.
Here is a fun thumbnail style linky…
If the thumbnail Linky doesn't work for you — or you prefer the old style, you can enter in the linky below.